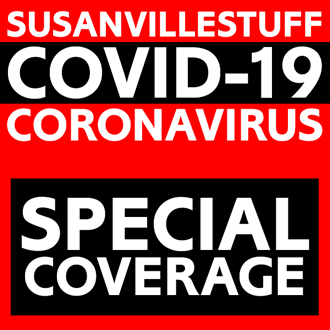 Lassen County's Public Health Department, citing a list of issues and grievances, has cut ties with the company that had been providing COVID-19 testing and switched to an alternate provider effective immediately.
The new testing schedule will be Tuesday, from 9:00 until 11:00a.m., Wednesday from 2:00 to 4:00p.m. and Thursday from 9:00 until 11:00a.m.
On February 22nd, in a letter signed by Lassen Public Health Officer Ken Korver M.D. and Director of Health and Social Services Barbara Longo, the county outlined the circumstances prompting the decision.
"Effective March 1, 2021, the Lassen County Public Health Department located at 1445 Paul Bunyan Road, Susanville California, is no longer available to OptumServe for community-based testing. While a difficult decision, it is in our best interest to properly serve and protect Lassen County residents during the COVID-19 pandemic.
"Our initial concerns with having a California centralized testing solution have not only proven to be true but is turning out to be worse than what we had originally thought. The fact that the Governor's office, California Department of Health leadership, OptumServe, and the commissioned Testing Task Force have demonstrated no interest in resolving our issues is unconscionable.
"As typical of rural counties, we have been able to resolve the problem on our own and as such, we were able to secure a COVID-19 testing solution at no cost to the state or our community members. Such services will not only provide the surveillance data needed to contain the COVID-19 virus locally but will preserve California taxpayer funds as well.
"We considered the following events in making our decision:
OptumServe does not follow CDC or CDPH COVID-19 guidelines on limiting the spread of the COVID-19 virus. Guidelines urge individuals to stay at home if they are sick or display symptoms consistent with COVID-19. On February 17, 2021, OptumServe staff were heard throughout the Public Health building coughing violently. Several of our staff expressed concerns about the excessive coughing and possible illness transmission. OptumServe staff are exposed to the COVID-19 virus on a daily basis and yet travel from county to county without proper quarantine measures. The PPE they wear is insufficient when they are mixing with our staff and the public in a building for over 12 hours in one day, particularly when they send sick people to our office. This mixing of staff places Lassen County Public Health staff and individuals coming to the clinic for testing at an increased risk of exposure, particularly to foreign COVID-19 variants.
OptumServe has proven that they are not reliable to show up when scheduled nor provide appropriate advanced notice of their cancellation to the Lassen County Public Health or the public who have scheduled appointments.
The OptumServe service model ignores the health equity needs of Lassen County by only testing in one location one day per week.
OptumServe will not share the schedule of testing appointments with Lassen County Public Health. This makes it difficult to know how many people to expect onsite and who may need contact tracing follow up.
OptumServe testing numbers are beyond disappointing. The following estimated numbers represent testing for each twelve-hour clinic:
January 20 – 78 test specimens
January 27 – 0 test specimens
February 3 – 66 test specimens
February 10 – 32 test specimens
February 17 – 24 test specimens
Lassen County Public Health tests over 100 people during a three-hour testing clinic.
OptumServe does not complete courier transport paperwork putting into question test sample accuracy.
The attached courier slip includes all information except the number of samples they are transporting.
Having blank fields on such an important tracking document opens the door to fraud and
misrepresentation of actual tests being transferred to the central lab. (Attachment 8)
OptumServe sends negative test results via costly next day delivery (FedEx). This puts into question why they are not using efficient and effective communication methods such as phone. text, and/or email.
While the State of California, under Governor Newsom's leadership has implemented punitive measure of accountability to county public health departments and the public at large, no accountability measures are in place for the costly, ineffective OptumServe services in Lassen County.
"Therefore, the citizens of Lassen County deserve better and we have taken the course of action needed to protect our communities, including the disparate areas of our county.
"We are available to offer consultation to OptumServe in their search for a new location."