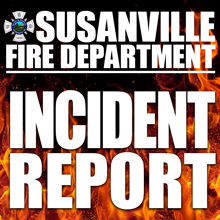 Fire fighters were called, and an apartment complex on Limoneira Avenue cleared of people Friday night after an oven fire was reported in one of the units. All was for naught however, as the quick-thinking resident of the apartment had already extinguished the fire.
At around 8:00p.m. on September 16th, Engine 621 from the Susanville Fire Department responded to 320 Limoneira for a reported multi-unit residential structure fire.
"Upon arrival E621 reported light smoke coming from the second floor of the building," details SFD Fire Captain Kalvn McFarland.
"E621 was notified that all occupants were out of the building and the fire was in apartment 11. Fire Crews made entry and found the fire had been extinguished."
According to McFarland's report, a resident had extinguished the fire with a fire extinguisher and the fire was contained to the oven inside the residence.
"Due to the quick action of the resident, the fire was stopped from spreading to the rest of the apartment and building. The cause of the fire was an oven being left on and unattended when power was restored."
There were no firefighter or civilian injuries. The Susanville Fire Department was supported by Cal Fire, California Correctional Center Fire Department, City of Susanville Natural Gas, LMUD and Susanville Police Department.
"The Susanville Fire Department would like to take this time to remind everyone to not leave cooking appliances unattended and to keep combustible materials away from appliances that conduct heat."