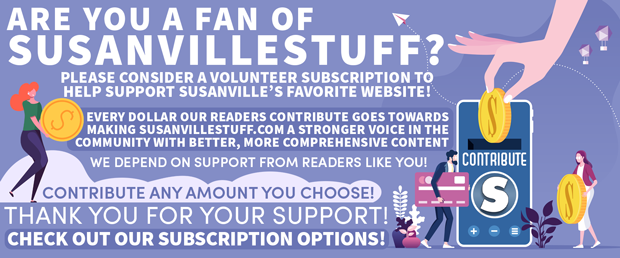 Now more than ever SusanvilleStuff needs help from our readers. Because the current COVID-19 crisis is affecting businesses in town, who we rely on for ad revenue, we find ourselves suddenly facing a serious financial problem. Here at SusanvilleStuff we always appreciate your contributions and subscriptions but right now the need is especially acute.
If you appreciate the work we are doing to keep the community informed and are financially able, please follow this link to our SusanvilleStuff subscription page. Any amount you can contribute will help during this difficult period.
https://www.susanvillestuff.com/subscription.html
SusanvilleStuff is our area's only locally owned news and information source and our commitment is to our friends and neighbors, with the goal of creating the best, all-around, most reliable content, while at the same time highlighting what makes Susanville and Lassen County so incredibly unique.
Click here to visit our subscription page and make an online contribution.
You can also send a check to:
SusanvilleStuff
115 South Roop Street
Susanville, CA 96130
Thank You!

Jeremy and Marshel Couso,
Publishers, SusanvilleStuff