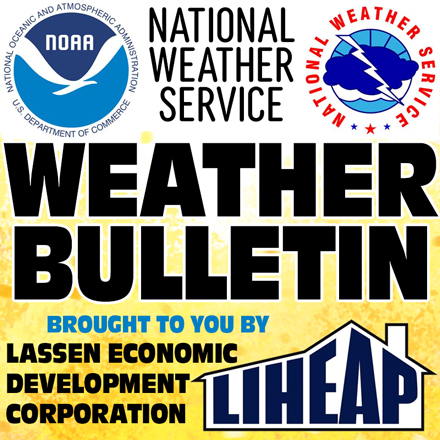 Forecasters at the National Weather Service office in Reno are warning area residents to expect winter conditions, with heavy snow possible above 5,500 feet, beginning late this evening.
Above 5,500 feet, total snow accumulations 3 to 5 inches are in the forecast, with 5 to 12 inches above 7,000 feet possible.
Here in the Honey Lake Valley, we should prepare for west to southwest winds at 45 to 50mph, except along the ridges where wind gusts may reach up to 100mph.
From late tonight through Wednesday afternoon plan on slippery road conditions. The hazardous conditions could impact the morning and evening commutes.
Strong winds may result in tree damage and may create subzero wind chills along the foothills and ridgelines of the Sierra.
Now is the time to prepare an emergency kit for your home and car. If traveling consider alternate plans, remember to carry tire chains, extra food, water and clothing. Once the storm arrives, travel may be difficult or impossible for an extended period of time.
Then its going to get cold
The cold airmass will likely usher in the season's coldest temperatures thus far. High temperatures will plummet some 15-20 degrees below average on Wednesday and Thursday – struggling to get out of the 30s in the Sierra valleys and 40s across western Nevada.
With northerly breezes still in place, it will feel brisk out, even during the afternoon hours.
Hard freezes are likely, particularly Thursday and Friday mornings as skies clear. Now is the time to complete winter protections for exposed irrigation equipment if you have not done so already.