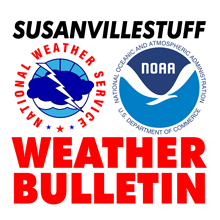 Forecasters at the National Weather Service office in Reno are warning Lassen County residents to expect near record daytime high temperatures of 99 to 104 this afternoon, Friday and Saturday, with well above normal overnight low temperatures of 65 to 75.
The Heat Advisory issued by the NWS extends to all of western Nevada and Northeast California, including Reno and Sparks, Carson City, Minden, Yerington, Fallon, Fernley, Lovelock, Hawthorne, Gerlach, Susanville, and Cedarville.
The advisory goes into effect at 11:00 this morning and ends at 10:00p.m. Saturday.
Weather experts say that there is a high risk of heath health impacts for much of the population, especially those without sufficient cooling or hydration resources, and those outdoors for extended periods of time.
While daytime high temperatures will be near or above records, limited overnight cooling will exacerbate heat health impacts especially for those without air conditioning.
Drink plenty of fluids, stay in an air-conditioned room, stay out of the sun, and check up on relatives and neighbors. Young children and pets should never be left unattended in vehicles under any circumstances.