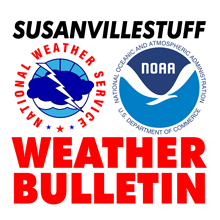 A High Wind Warning will be in effect from 10:00 this evening until 7:00p.m., Tuesday with strong damaging winds forecast for southern Lassen, eastern Plumas, eastern Sierra counties, and northern Mono County west of Highway 395.
Here in the Honey Lake Valley you can expect northeast winds from 15 to 25mph with gusts of 30 to 45mph. Above 6,500 feet winds will be 20 to 30mph with gusts up to 65mph.
On Sierra ridges winds will hit 60 to 80mph with gusts exceeding 130mph.
Damaging winds will blow down trees and power lines with potential for power outages. Travel will be difficult, especially for high profile vehicles.
Now is the time Secure loose outdoor items such as patio furniture, holiday decorations, and trash cans before winds increase which could blow these items away. The best thing to do is prepare ahead of time by making sure you have extra food and water on hand, flashlights with spare batteries and/or candles in the event of a power outage.