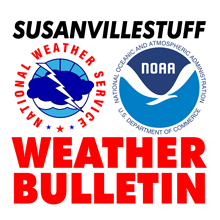 A moderate winter storm is set to drop several inches of snow in the Honey Lake Valley Wednesday and Thursday, with upper elevations in our area receiving up to 20 inches of the white stuff.
According to a Winter Weather Advisory issued by forecasters at the National Weather Service office in Reno, areas above 5,000 feet will see increased snowfall from now until 4:00a.m. Friday.
Accumulations will generally be 4 to 10 inches north and east of Susanville, including Highway 395, with 10 to 20 inches west and south of Susanville including Highways 36 and 44. Up to 2 inches will be possible below 5,000 feet in the Susanville area.
Forecasters say that travel could be very difficult to impossible. The hazardous conditions could impact the morning or evening commute. Very strong winds could cause extensive tree damage.
Avoid travel if possible, you could be stuck in your vehicle for many hours. If you must travel, prepare for long delays and carry an emergency kit with extra food, water and clothing. If you stay home, have a backup plan in case of power outages.
A Winter Weather Advisory for snow means periods of snow will cause primarily travel difficulties. Expect snow covered roads and limited visibilities, and use caution while driving.
The latest road conditions can be obtained by calling 5 1 1.