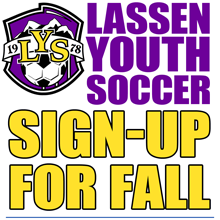 Online registration for Lassen Youth Soccer's fall season will be open until May 31st, with a special discount for those who sign-up by this Friday.
The league's season is scheduled to start on August 24th.
If you register before May 8th there is a $10 per player discount. Just head on over to www.lassenyouthsoccer.org.
Registration fees are based on age:
U6 (born in 2015 or 2016) $75
U8 (born in 2013 or 2014) $75
U10 (born in 2011 or 2012) $85
U12 (born in 2009 or 2010) $95
U14 (born in 2007 or 2008) $105
U16 (born in 2005 or 2006) $105
U19 (born in 2002, 2003 or 2004) $105
Player assessments for U10 and U12 players will be held at a date to be announced later.