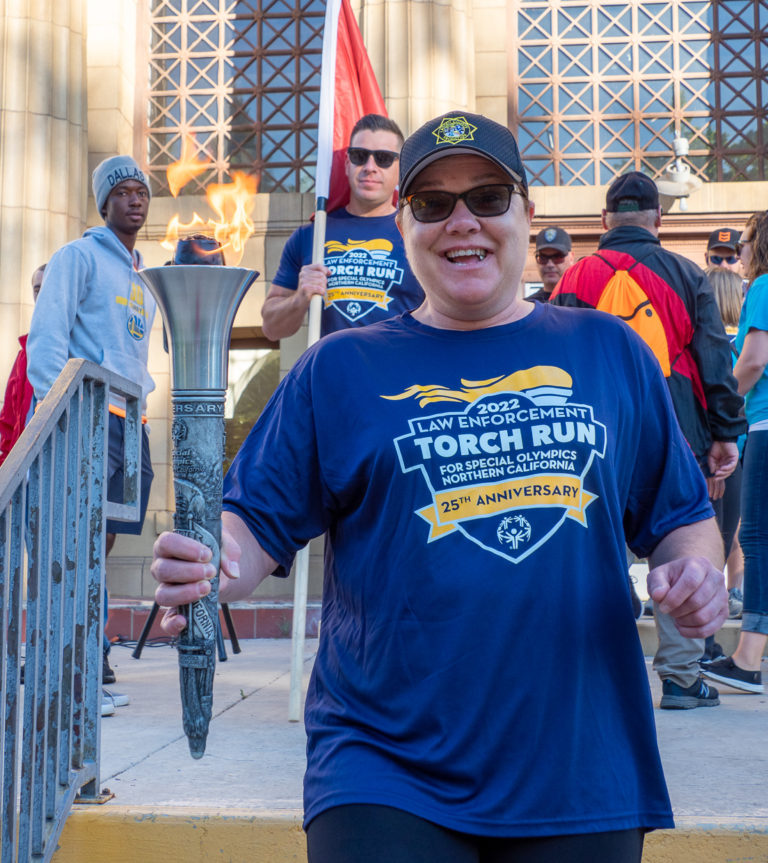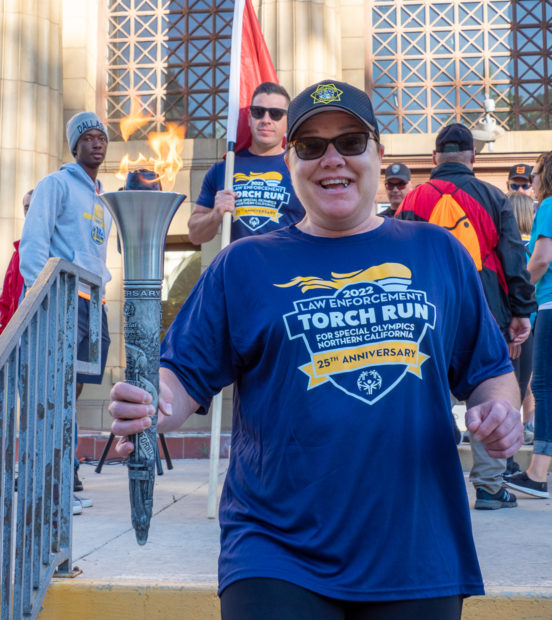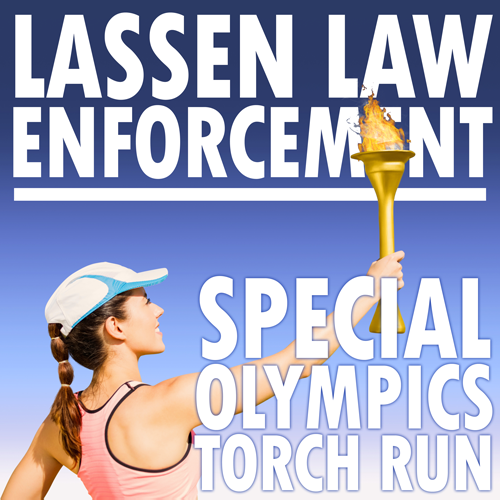 A Photofeature by Jeremy Couso
As the sun came up Thursday morning a big group of local law enforcement professionals met at the Historic Courthouse in uptown and began what they hope will become an annual event – a Law Enforcement Torch Run raising funds and awareness for Special Olympics of Northern California.
Lassen County Sheriff Dean Growdon and Probation Chief Jennifer Branning kicked off the run with a brief welcoming speech on the steps of the Historic Courthouse before runners set off on the 1.9-mile course.
Each year Law Enforcement agencies all over Northern California raise thousands of dollars by hosting fundraising events which support the Special Olympics programs. Lassen's event, organized by Calli Oxford, has law enforcement personnel raising funds for the honor of running the Special Olympics Torch, "The Flame of Hope," through town as a sign of their dedication and commitment to Special Olympics athletes.
Runners included Dean Growdon, Jennifer Branning, Ryan Cochran, Lesandra Rodriquez, Anna Townsend, Brad Pon, Jackson Meltel, Megan Paterson, Jennifer Miller, Kim Larivee, Jessica Jimenez, Tiffany Bernardino, Dusty Pemberton, Silas Rojas and Mark Hillskotter.
All along the torch's path, which ended at the County's offices on Riverside Drive, spectators and supporters lined the street to cheer on the participants.
Donors and volunteers included Tom Neely, Jessica Valdovinos, Nancy Cardenas, Carol Growdon, Liz Cleary, Dave Woginrich, Kay Runyon, Niki Jarrell, Sara Gould and Robert Roadifer.
Barbara Oxford and her team from Golden 1 Credit Union passed out drinks and goodies at the end of the run.
The teams have exceeded their goal of raising $1,000, so far making $1,950 dollars, all of which will go to the Special Olympics of Northern California.
There is still a week left to make contributions to the Torch Run. Go contribute to a great cause and the support the efforts of this nice group of people. Click here to donate before June 24th.