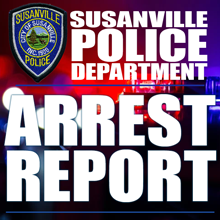 A man suspected of vandalizing the McDonald's restaurant on Main Street in Susanville was caught red-handed by officers from the Susanville Police Department early Friday morning. He was found hiding underneath an air conditioning unit on the roof of the building.
According to details released by the department, Officers from the SPD, along with Deputies from the Lassen County Sheriff's Office, were dispatched at about 4:40a.m. and arrived at the scene, where they could hear loud banging from the roof.
"Once they made their way to the roof access ladder, they observed broken PVC piping, a broken-out drive through window and other damage to the business," explains Susanville Chief of Police Ryan Cochran.
Officers gave numerous commands for the person on the roof to come down, with no result.
"Officers and Deputies made access onto the roof and began searching. While searching the rooftop, damage was observed to most of the air conditioning units and broken cinder blocks which appeared to have been used to cause the damage."
A man identified by police as 61-year old Christopher Herbert Craft was found hiding under one of the damaged air conditioning units. Craft has no known home address.
He was arrested for Felony Vandalism (Damage more than $400.00) and Misdemeanor Trespassing and was booked into the Lassen County Jail.