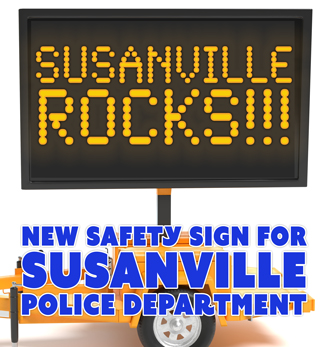 Just in time for a busy event season with parades and street closures nearly every weekend, Susanville Police Chief Ryan Cochran and his department have received a cool new Variable Message Sign Trailer.
This sign trailer can display messages for special events in town and can also act as a radar sign at locations throughout town during the week.
"This trailer was bought partially through our California Office of Traffic Safety grant and partially funded through the City of Susanville Public Works Department," said Chief Cochran, who thanked both Cal OTS and City Public Works for the sign.
"Our citizens will be seeing this sign at special events and all-around town."