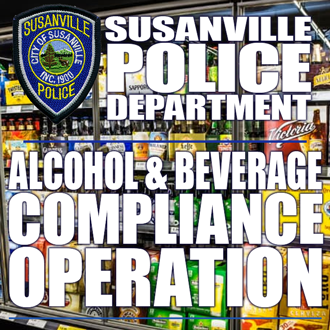 Officers from the Susanville Police Department visited retail establishments throughout town on New Year's Eve, as part of a grant-funded check to make sure that rules and regulations for selling alcohol were being followed by local businesses.
"Officers conducted a General Enforcement Operation through a grant funded by the California Department of Alcoholic Beverage Control," explains Police Chief Ryan Cochran.
"This operation allowed the Department to visit twenty-five licensed businesses and conduct compliance checks throughout the night."
According to Cochran all twenty-five retailers were in compliance during these visits.
"We would like to thank local businesses for being in compliance on this busy New Year's Eve holiday weekend."