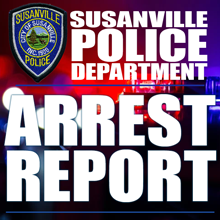 An erratic chase through uptown Susanville, which briefly reached speeds of around 60mph on residential streets, ended abruptly Wednesday evening after the fleeing driver struck a curb on Mill Street, lost two wheels, and then plowed into a parked car on Carroll Street.
Officers had been dispatched to the intersection of Main Street and N. Sacramento Street around ten o'clock after receiving a report that a vehicle had just struck a stop sign while leaving a nearby business.
The stop sign had been destroyed and was found in a nearby parking lot.
Officers began searching the area for suspect, reported to be a woman, and her vehicle, a gold-colored 2000 Cadillac Escalade.
Police spotted her again, tailgating a vehicle on Ash Street approaching Main Street.
"It was later determined the suspect vehicle was being blocked in by two witnesses who were in front of the vehicle attempting to make the vehicle stop," explains Susanville Chief of Police Ryan Cochran.
"All parties turned onto Main Street and began driving westbound at a slow rate of speed. Susanville Police units pulled in behind and attempted to make a vehicle stop, using lights and sirens the vehicle failed to yield."
Near the intersection of Main Street and Grand Avenue, the vehicle came to a complete stop and a patrol unit pulled in behind the suspect's vehicle.
"The driver then placed the vehicle into reverse and backed into the patrol unit causing minor damage."
And the chase was on. The suspect accelerated to speeds of around sixty miles per hour on Main Street, then turned south onto S. Weatherlow Street, running the red light at the intersection.
"The suspect vehicle then attempted to turn at Mill Street, when it hit the curb and knocked off both drivers' side tires before hitting a parked vehicle on Carroll Street. The suspect vehicle traveled a few more yards but due to the damage sustained, it came to a rest on the east side of Carroll Street."
The driver exited the vehicle and was immediately taken into custody without further incident.
The driver was identified as 46-year old, Garden Grove, CA resident Maitram Thi Hoang.
According to Chief Cochran, Hoang was booked into the Lassen County Jail for assault with a deadly weapon, felony evading a Peace Officer, driving under the influence of alcohol, hit and run causing property damage and driving on a suspended driver's license.
The case had been referred to the Lassen County District Attorney.