Niki Cunningham
SusanvilleStuff Sports Editor
There were more than 552 participants in this year's derby, with neat prizes awarded to kids in four different age groups.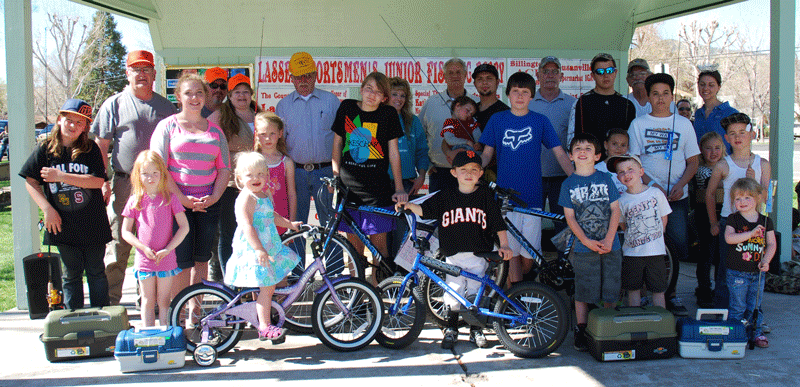 GIRLS ages 2 to 5 ~
1st Place ~ Haley Mankins, 2 lbs and 4 oz, winner of bike donated by Leslie's Jewelry.
2nd Place ~ Payton Bertrand, 1 lb and 14 oz, winner of rod & reel donated by Western Nevada Supply
3rd Place ~ Kaitlyn Turner, 1 lb and 4 oz, winner of tackle box by Larry's Spirit Gas
Lassen Sportsmens Club President Stephanie Sayers-Van Brunt and Don Spalding.
GIRLS ages 6 to 15 ~
1st Place ~ Aziz Ciudad-Real, 3 lbs and 4 oz (largest of the day), winner of bike donated by Billington Ace Hardware
2nd Place ~ Faith Murphy, 2 lbs and 12 oz, winner of rod & reel donated by Western Nevada Supply
3rd Place ~ Caitlynn Anderson, 2 lbs and 10 oz, winner of tackle box donated by Larry's Spirit Gas

Payton Bertrand was the winner of a rod and reel donated by Western Nevada Supply
 BOYS ages 2 to 5 ~
1st Place ~ Sam Blue, 2 lbs and 13 oz, winner of bike donated by Leslie's Jewelry
2nd Place ~ Nathan Helle, 2 lbs and 7 oz, winner of rod & reel donated by Western Nevada Supply
3rd Place ~ Aiden Bottini, 2 lbs and 5 oz, winner of tackle box donated by Larry's Spirit Gas

The Lassen Sportsmen also raffled off some great prizes
BOYS ages 6 to 15 ~
1st Place ~ Kevin Barnetche, 3 lbs and 0 oz, winner of bike donated by Billington Ace Hardware
2nd Place ~ Mason Stokes, 2 lbs and 13 oz, winner of rod & reel donated by Western Nevada Supply
3rd Place ~ Beck Williams, 2 lbs and 11 oz, winner of the tackle box donated by Larry's Spirit Gas