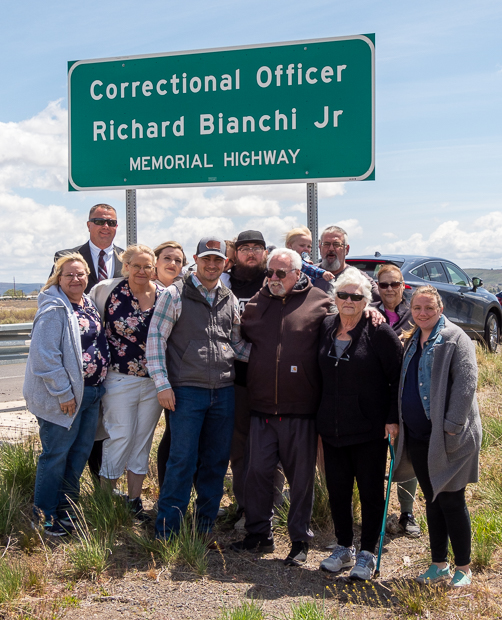 By Jeremy Couso
First District Assemblywoman Megan Dahle officially dedicated a stretch of State Route 36 just east of Susanville as the "Richard Bianchi Jr. Memorial Highway" at a ceremony held Monday afternoon near one of the new memorial road signs.
Local dignitaries, fellow officers, administrators from Susanville's two prisons and the family of the fallen Correctional Officer attended the brief, roadside dedication.
Bianchi was killed June 25th, 2020, when his vehicle overturned on Highway 44 near Old Station. He was driving from High Desert State Prison to a hospital in Redding to guard an inmate.
He served with the Department of Corrections and Rehabilitation for ten years and is survived by his wife and two children.
"After he passed' my office was contacted about a memorial effort to honor Richard's life and service to his community and I was happy to oblige," explains Assemblywoman Dahle.
"My staff and I drafted ACR-42' which memorializes a portion of Route 36 in Richard's honor' and will provide loved ones with a tangible reminder of him every time they drive past."