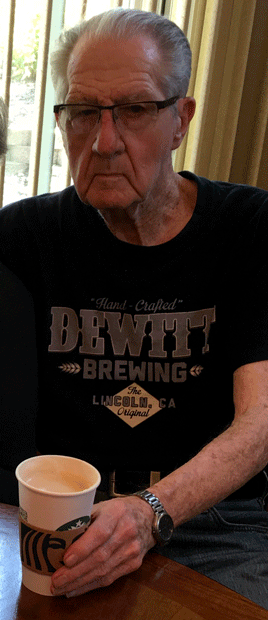 My Hero, Richard Lee DeWitt of Lincoln, CA, passed away in the early morning hours of June 10, 2022, at the age of 87 years after several months of at-home hospice care. His wife Janet, daughter Jodi, and granddaughter Nicole were with him during his last hours here on earth.
Richard was born July 24, 1934, in Susanville, CA to Grover and Olive DeWitt. They lived on Park Street behind Bob's Market. He was the youngest of three siblings and lived in Susanville for over 75 years. He remained close to his brother, Bobby DeWitt and two sisters Madelyn Laxalt and Ruby Fay (Tay) Murphey and helped them as they got older. He had a special bond with his nephews David Murphey, Ricky Murphey, Rob DeWitt, and John Laxalt.
Richard graduated from Lassen Union High School in 1951. He was handsome, but shy and loved sports. He always enjoyed attending the Alumni events over the years.
He served our great country in the Army from 2/3/1955 – 1/23/1957. He was stationed in Fort Ord, CA., and traveled overseas. He received the Good Conduct medal and an Honorable Discharge. He liked to tell the story of how the dentist overseas yanked his tooth out so hard that he jumped out of his seat in pain! Ever since then he hated going to the dentist.
May 9, 1959, he married his "one and only" Janet Helen Riedel. They met working at the BLM. Him, mowing the lawn, and she a secretary. It was love at first sight. They were married for 63 years. He was a devoted husband.
Richard continued serving our country by working for the U.S. Postal Service for over 30 years. I think he was everyone's favorite mailman. I know he was mine. He enjoyed what he did and worked hard. I was so proud of my dad for being a mailman. I'd watch for his mail truck down on the corner of Willow and Weatherlow street, then I'd race to it, hop in, and he'd give me a ride home. I felt so important riding in an official mail truck with a real mailman! He worked with an interesting and fun bunch at the Post Office. A highlight was the annual Post Office picnic at Eagle Lake, where they'd pitch horseshoes, play volleyball, and go for a boat ride. On weekday afternoons, you could spot his mail truck outside the Koffee Hut where he'd enjoy a deserved coffee break with his friend Cheryl Dieter. After work, he was known to have a beer (or two) with his friends, or just at home and relax in his living room, watching out the window with the ball game or local news on.
In 1964, he became a proud dad to his daughter Lisa. Then again, in 1967 to his daughter Jodi, and in 1972 to his son Michael. He was a great dad and always stayed interested in our lives. He played catch with me in our backyard, taught me how to throw a football, went to all my Bobby Sox and basketball games, my brother's Little League games, attended all our school events, and even made time to be served some tea at my sister's and I doll tea parties.
Richard was able to retire early, in his 50's. His Post Office buddies threw him an "Over the Hill" retirement party for him at our house on Richmond Rd. Once retired, he worked part-time as a janitor for his church, St. Paul's Lutheran Church. He wanted to keep busy and help, but also have a little pocket money for all his breakfast meetups, coffee breaks, magazines, and cigars that he loved to buy at The Patio Store owned by Bruno Vial. During his retirement, he enjoyed family get-togethers at home or relative's houses. The 4th of July was also his brother Bobby's birthday, so we always had a fun time. He enjoyed road trips, barbeques in the backyard and picnics at the park or lake. He had a love for sweets, so especially liked Tay's homemade ice-cream and a special ice-cream dessert I'd make for him on his birthdays. 
I think he was happiest at home with his family and just "puttering" around outside his beautiful yard in his cap and puffing on a cigar. He liked going to local ball games and watching the Phillies play baseball at Memorial Park or the Cougars play basketball at Lassen College with his best friend, Fred Borghi or his brother Bobby. Fred owned his own barber shop and he promised dad a lifetime of free haircuts since dad was his model in barber school. Dad loved telling that story too. He and dad also secretly exchanged girly magazines. Don't tell anyone!
My parents moved to Lincoln, CA. in September of 2012 to get away from the snowy winters in Susanville and be closer to us. During my dad's last 10 years he had some ups and downs. He got to spend a lot of his time relaxing and watching his favorite sport and political shows like Morning Joe at 3am with a hot cup of coffee and a cinnamon roll. He was a proud Democrat, and a loyal San Francisco Giants and 49er fan. Always a mailman, with his favorite cane in hand, he walked up the street to his mailbox daily to check the mail until he couldn't any longer. Saturdays were special. We spent the day drinking Starbucks, eating frozen yogurt, talking politics and current events, going on day trips, and having lots of laughs. As for the downs… His wife Janet was diagnosed with Alzheimer's, and he had a few eye surgeries, prostate issues, got dentures, which he didn't like, so wasn't able to eat well, and had a short stay in the hospital for a skin infection, and finally developed dementia himself. However, I am grateful that I got to spend so much time with him over the past 10 years and take care of him when he needed me most.
He is survived by his wife, Janet DeWitt, and his three kids, Lisa Krajewski (spouse Chris Krajewski) Jodi Gonzalez (spouse David Gonzalez), Mike DeWitt, and four grandchildren Nicole Friend, Matt Krajewski, Andrew & Benjamin DeWitt, his nephews Ricky Murphey (spouse Jeff Breslaw), Robby DeWitt and niece Francie Steiger (spouse Matt Steiger), their sons PJ & Daniel, great nephew John DeWitt (spouse Danae Carter DeWitt) and their kids, great niece Robin DeWitt Silski (spouse Todd Silski) and their kids, great nephew Dan Murphey (spouse Emily), great nieces Kelly Murphey-Paris (spouse Michael E. Paris) and their kids, and Tracy Murphey. Special mention to Judy Pacheco Murphey (David Murphey's wife), Arlan & Carol Smith (brother and sister in-laws), whom he was close with throughout his life. He also had a cute tiny grand-dog named Pixie, another bigger grand-dog named Chase, and a grand-cat named Snoopy.
Richard requested no service and to be cremated. A humble man, he didn't want a lot of fuss made over him. I think he would like to be remembered as a kind man, with a great sense of humor, a good friend, a thoughtful neighbor, a dedicated mailman, a loving husband, a great dad, a wonderful grandpa, a fun brother and uncle who cared about people and animals. He was always willing to help someone out. He will be dearly missed, but he is now at peace and with the Lord. He will be at the Sacramento Valley National Cemetery in Dixon, CA. for Veterans. In lieu of flowers please donate to your choice of charity and keep Richard in your memory when you open your mailbox. Thank you.