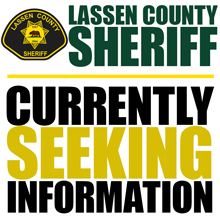 Investigators from the Lassen County Sheriff's Office are trying to learn more details about a January 21st, shooting in Westwood that sent one victim to the hospital with a single gunshot wound to the face.
Shortly before midnight on Saturday, Deputies were dispatched to a residence on Avenue Three, in Westwood for a reported shooting.
"Upon arrival, Deputies located an adult female suffering from a gunshot wound to her face," detailed LCSO Captain Mike Carney.
"The victim had a gunshot wound that entered below her left nostril and exited on the right side of her neck. Deputies were only able to gather limited information from the victim prior to being treated by paramedics."
The victim was taken to Banner Lassen Hospital, and subsequently transported to Renown Medical Center for treatment of her injuries. The victim is listed in stable condition.
According to Carney, Deputies and Detectives have been following up on multiple leads and the investigation is on-going.
If you live in the areas of the 100 block of Delwood and Cedar Streets and Avenues 3 to 5, and have any information or video surveillance from the hours of 11:30p.m. to 12:00a.m., on January 1st, you are urged to contact the Sheriff's Office.
If anyone else has any information on this investigation, please contact the Sheriff's Office at 530-257-6121. You can remain anonymous.