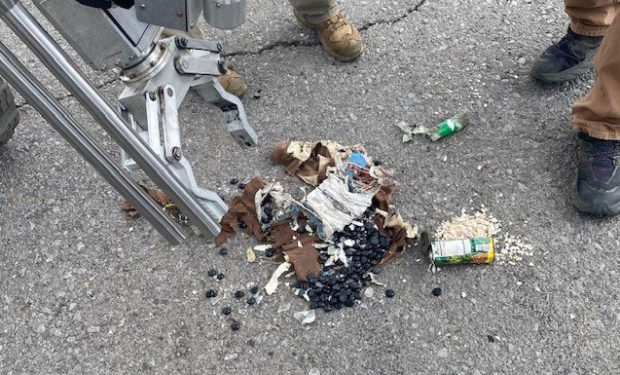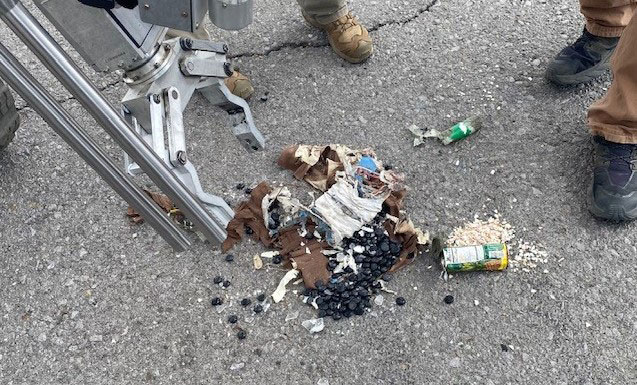 A Cal-Trans road crew working near Johnstonville along Highway 395 came across a suspected explosive device Tuesday morning, prompting a response from the Washoe County Bomb Squad who used a robot to dismantle the homemade bomb.
At around 9:30a.m., according to details released by the Lassen County Sheriff's Office, the road crew was working along the highway near Johnstonville Quality Foods when they found a suspicious package in a ditch.
"Lassen County Sheriff's Office deputies and sergeants responded," details LCSO Lieutenant David Woginrich. "Upon inspection of the package, the decision was made to evacuate nearby businesses and close a small portion of Highway 395 East."
California Highway Patrol officers arrived on scene and initiated the highway closure. The Washoe County Consolidated Bomb Squad was contacted and requested to respond.
At around noon, Washoe County Consolidated Bomb Squad personnel arrived and began utilizing robots to examine the package. After close inspection, the package was determined to be a homemade explosive device.
"Inside a wrapped t-shirt and masking tape was an aluminum can containing a cylindrical explosive device with a fuse. Electrical wiring, broken glass, glass gemstones, and crushed seashells were filled around the aluminum can."
The package was made safe by bomb technicians and collected for disposal.
"The Lassen County Sheriff's Office would like to thank the public and business owners for their understanding related to the evacuations and highway closure. Further, the Lassen County Sheriff's Office appreciates the time and resources efforted by the California Highway Patrol, Susan River Fire Department, Cal Trans, and the Washoe County Consolidated Bomb Squad. Last, but surely not least, great work by our Lassen County Sheriff's deputies and sergeants for responding quickly and ensuring the safety of the public and nearby businesses."