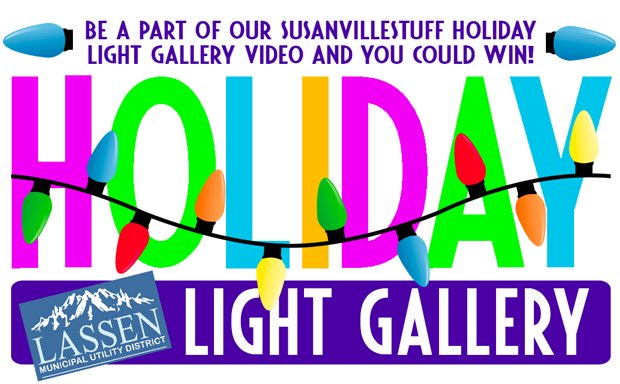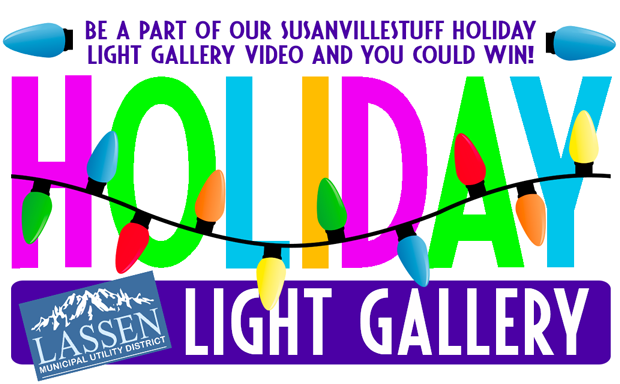 It's time for our 16th annual SusanvilleStuff Holiday Light Gallery Video! Each year we spend the month of December taking video of the valley's most beautiful light displays for our big gallery.
If you are proud of your light display, or see a light display we should include in our gallery, let us know.
We have neat prizes from Lassen Municipal Utility District for winners in three categories: Best Theme Display, Spirit of the Season and Most Spectacular.
Our panel of judges will visit each entry and our top winners will each receive a $100 Energy Gift Card from Lassen Municipal Utility District.
Send us your address using the handy form below! We'll be around to shoot video for our gallery sometime before December 22nd.
Deadline to submit your display is Thursday, December 15th and our winners will be announced when we publish our video gallery on Christmas Eve.
Here is a look at last year's video!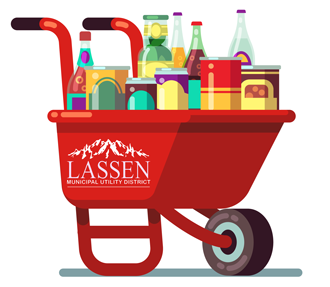 Beginning Thursday, December 1st, Lassen Municipal Utility District customers can exchange a non-perishable food item for a box of energy efficient LED Christmas lights as part of the utility's annual "Food for Lights" collection drive. The food collected will benefit local food banks.
Lights are limited to one box per account and are available on a first come, first served basis, while supplies last.
"If you are looking to replace your existing holiday lights with LEDs," adds LMUD Public Relations Manager Theresa Phillips, "LMUD offers customers rebates of up to $3.00 (per 50-100 bulb string) when they purchase EnergyStar qualified lights."
Program restrictions may apply so before you purchase your lights log on to www.lmud.org and click on the rebate link. Or call LMUD at 530-257-4174.
To learn more about how LED's can reduce your holiday energy use visit energystar.gov.