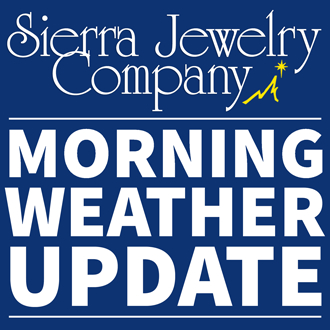 Good morning! Here is today's weather forecast from the National Weather Service.
Today: Partly cloudy. Slight chance of snow in the morning. Highs 30 to 40. Light winds becoming southwest around 10 mph in the afternoon.
Tonight: Partly cloudy in the evening then becoming mostly cloudy. Chance of snow. Lows 16 to 26.
Christmas Day: Cloudy with a chance of snow. Highs 33 to 38.
Wednesday Night: Mostly cloudy with a chance of snow. Lows 12 to 22.
Thursday Through Friday: Partly cloudy. Highs 34 to 39. Lows 11 to 21.
Friday Night: Mostly cloudy. Lows 13 to 23.
Saturday: Partly cloudy. Highs 33 to 43.