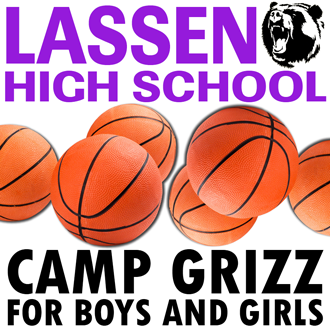 If you are between the ages of 7 and 11 and would like to learn the fundamentals of basketball this summer while having a really fun time, you should sign up for Lassen High School's 2022 Camp Grizz Basketball Camp, which starts June 20th.
According to the organizers, the camp promotes physical activity and encourages a healthy lifestyle through participation in sports, along with in-depth instruction and opportunities to improve and to compete at higher levels.
"We believe sports are a valuable part of life, in which many life skills can be taught and reinforced in a fun and meaningful way. Our first priority is to provide a positive experience in which campers are taught teamwork, conflict resolution skills and individual response."
Campers will be placed on teams of no more than ten players, with a trained camp counselor. Counselors will provide constant supervision and act as a positive role model to all campers.
Basketball players should wear appropriate athletic attire and comfortable shoes (non-marking basketball shoes) Bring a water bottle and a snack.
Camp will be held in the big gym at Lassen High School from 8:30a.m., until 12:30p.m., each day between June 20th through June 23rd.
Player drop off beings 30 minutes prior to the start of camp. Players can sign-up the day camp begins, though early sign-ups are greatly appreciated.
The cost of the camp is $75 and to participate players must be between the ages of seven (or going into second grade) and eleven.
For important information and a registration form click here.