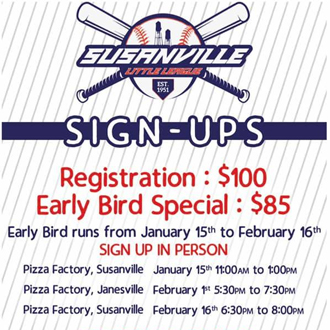 Signups for Susanville Little League's 2022 season will begin January 15th, with options to register both online and in-person between now and March 4th. If you register early, prior to February 16th, registration will be $85 per player instead of $100.
In-person Little League signups start January 15th and there will be three chances to register in person – at the Susanville Pizza Factory, January 15th from 11:00 to 1:00p.m., at the Janesville Pizza Factory February 1st from 5:30 to 7:30p.m. and again, at the Susanville Pizza Factory on February 16th from 6:30 to 8:00p.m.
Click here to sign up online beginning this Saturday.
For more information you can email susanvillelittleleague@gmail.com, call President Cesar Gonzalez at 1.530.260.4966 or Player Agent Amanda at 1.775.857.9900.