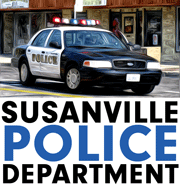 A 25 year-old Susanville man was arrested Thursday after Susanville police responded to 700 Gem Drive at about 1:30p.m., on a report of a female subject being threatened with a knife.
On arrival, according to a press release issued by the department, officers contacted the victim who advised that she had received a call from a male subject, later identified as Benito Sosa, asking for a ride. After arriving at their destination and finding nobody at the residence, Sosa took the vehicles key away from the victim, held the knife to her and would not allow her to leave. The victim was able to text a family member who phoned police.
After further investigation, Sosa was arrested and transported to the Lassen County Jail where he was booked for Assault with a Deadly Weapon, False Imprisonment, Terrorist Threats and Possession of a Dangerous Weapon. Bail was set at $20,000.
The case will be forwarded to the District Attorney for prosecution.