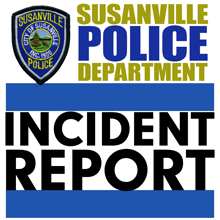 A 37-year old Susanville woman was killed Friday night after being struck by a vehicle on Susanville's Main Street and police are investigating the fatal accident as a hit and run.
According to details released by the department, officers responded to the accident scene in the 1800 block of Main Street at around 8:15p.m., arriving as witnesses were attempting to give aid to the victim.
The woman, whose name is not being released at this time, succumbed to her injuries before medical personnel arrived.
The initial investigation determined that the driver of the vehicle, possibly a dark-colored SUV, did not stop after the accident and continued eastbound.
Officers were unable to locate the vehicle.
"This is an active investigation," explains Police Captain Ryan Cochran. "SPD Officers are reviewing the video footage and interviewing witnesses."
If you know the driver of the vehicle or have any other information about the incident you are asked to call the Susanville Police Department at 257-2171.