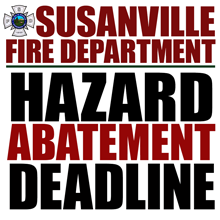 The Susanville Fire Department is reminding city residents that the Weed Abatement deadline is Monday, June 26th, 2023 for removal of weeds and fire hazards.
"We are asking that all hazards be mitigated before the deadline," explains Assistant Fire Chief Tom Hernandez. "The following Weed Abatement Standards are designed to assist firefighting efforts by, prevention of, or slowing the spread of fire."
According to Hernandez the Susanville Fire Department has the final decision in determining whether an area is 'safe from the spread of fire' and conforms to the intent of the code.
The applicable City Code Section, 8.28.030, says that, "It is unlawful for the owner, agent, lessee or other person having charge or control of any piece or parcel of land within the city to allow weeds or rubbish to grow, or to remain thereon, or upon the street or sidewalk in front of such piece or parcel of land."
Weeds, grass, or other combustible growth may be abated by mowing, disking, or scraping. If mowed the combustible growth must be cut and maintained to a maximum height of 4 inches.
All hazards must be mitigated prior to the June 26th, deadline and abatement by open burning is not permitted.
Guidelines for removal of hazards on all properties within the city:
Mow or disk space around all buildings 30 feet wide at minimum.
Mow or disk space 50 ft. wide minimum completely around the perimeter of the property to the street or sidewalk. Mow or disk 30 ft. wide minimum cross-breaks every 50 ft. maximum, (property can be completely mowed or disked in lieu of cross-breaks.)
Mow or disk space extending 30 ft. minimum beyond the foliage of any group of trees.
All rubbish, trash, trimmings, rubble or litter shall be removed from the property.
All woods, fuel, or lumber shall be neatly stacked or removed from the property.
All weeds, grass, or other combustible growth shall be cleared at least 10 ft. from around any combustible storage.
Greenbelt, pastures, and environmentally-sensitive areas shall be assessed on an individual basis. Contact the fire department if you believe that this applies to your property.
Mow or disk space may be required to be larger if a potential fire hazard exists.
Remove down branches from trees and trim lower branches up to 6 ft. from the ground or 1/3 the height for smaller trees.
For more information regarding the Susanville Weed Abatement Program please contact Assistant Chief Tom Hernandez at 530-257-5152.