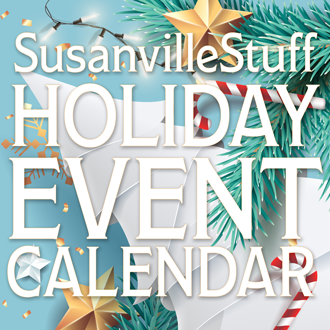 The Holiday Season is almost upon us and we've put together a list of craft fairs, fireworks, parades, the festival of lights, a holiday concert, and many more fun things. Our list will keep growing through the season so check back often. If you would like to add your group or organization's event, email your flyer and information to submissions@susanvillestuff.com
If you would like to add your group or organizations event, email your flyer and information to submissions@mcouso
UPDATED: November 25th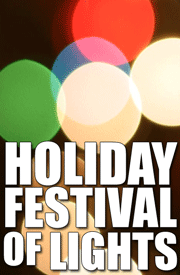 Festival of Lights
December 2nd – December 25th
Fridays, Saturdays and Sundays the Lassen County Fair is hosting its 'Holiday Festival of Lights' exhibition at the fairgrounds. The displays are built by different local groups, organizations, and individuals for the public to drive through and 'oooooh and ahhhhhhh' at during the season. The massive display of holiday cheer is also a stop on the annual Senior Light Tour.
Festival of Lights opens on December 2nd. Friday and Saturday gates are open 5:00 – 9:00p.m., and on Sunday, gates are open 5:00 – 8:00p.m. Gates will be open the whole week from Friday, December 16th through the following Sunday, December 25th. The hours for December 24th, Christmas Eve, are 5:00 – 10:00p.m. Please note, Friday, December 16th is walk-through only from 4:00 – 8:00p.m., no cars. Drive-thru the fairway and see holiday light displays. Donations are accepted.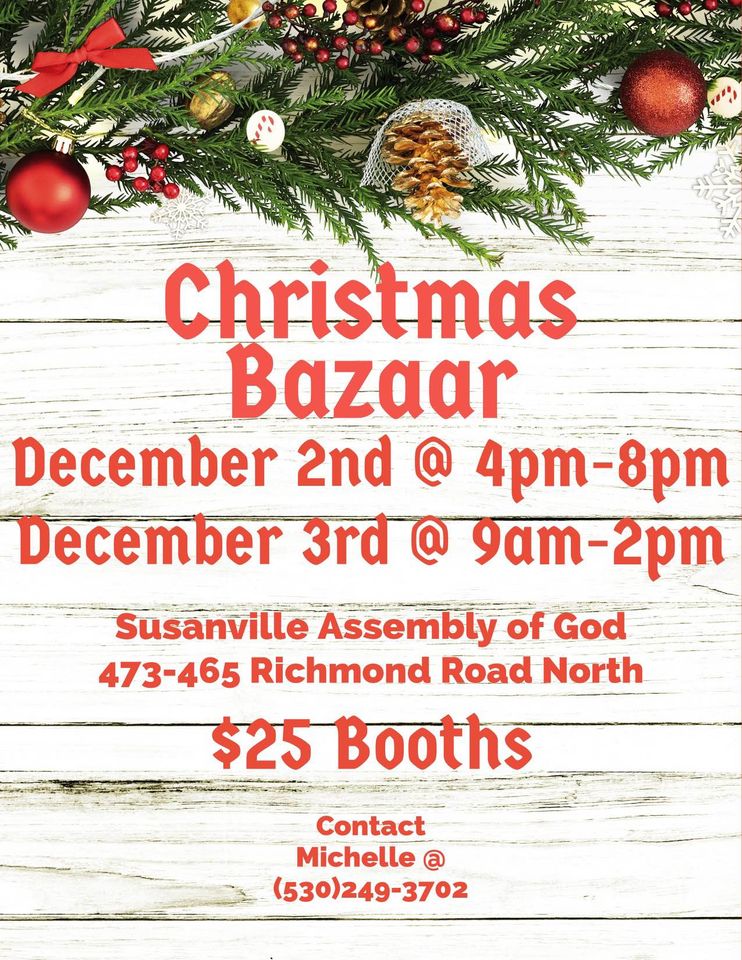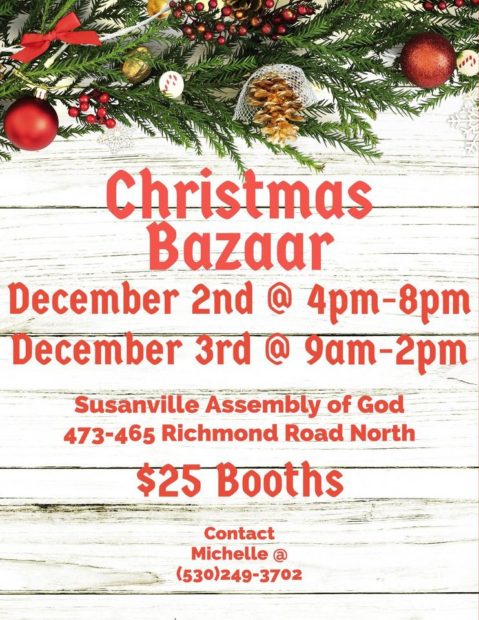 Susanville Assembly of God Christmas Bazaar December 2nd and 3rd
Christmas Bazaar Friday, December 2nd from 4:00 – 8:00p.m., and Saturday, December 3rd from 9:00 – 2:00p.m., at The Susanville Assembly of God Church, 473-465 Richmond Road North.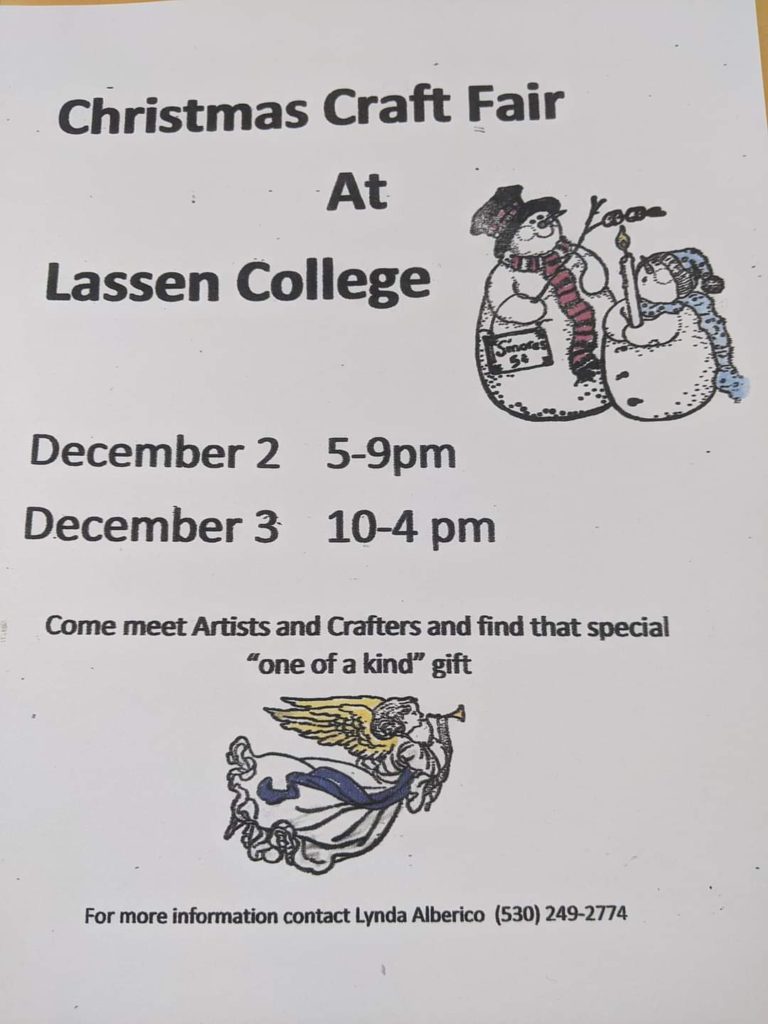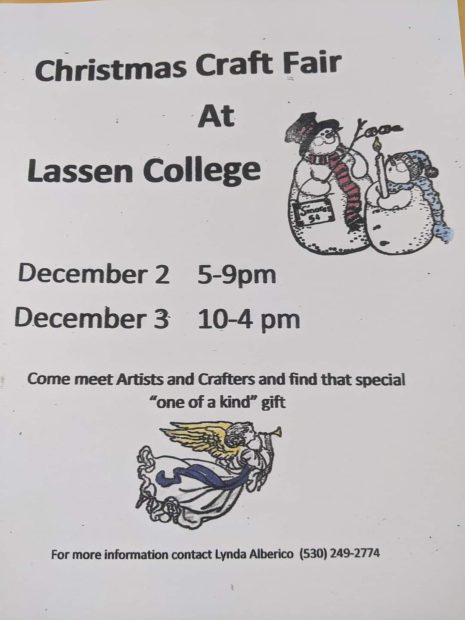 Christmas Craft Fair at the College
December 2nd and 3rd
Come meet artists and crafters and find that special one-of-a-kind gift. Friday, November 2nd, 5:00 – 9:00p.m., and Saturday, November 3rd, 10:00 – 4:00p.m. at Lassen College.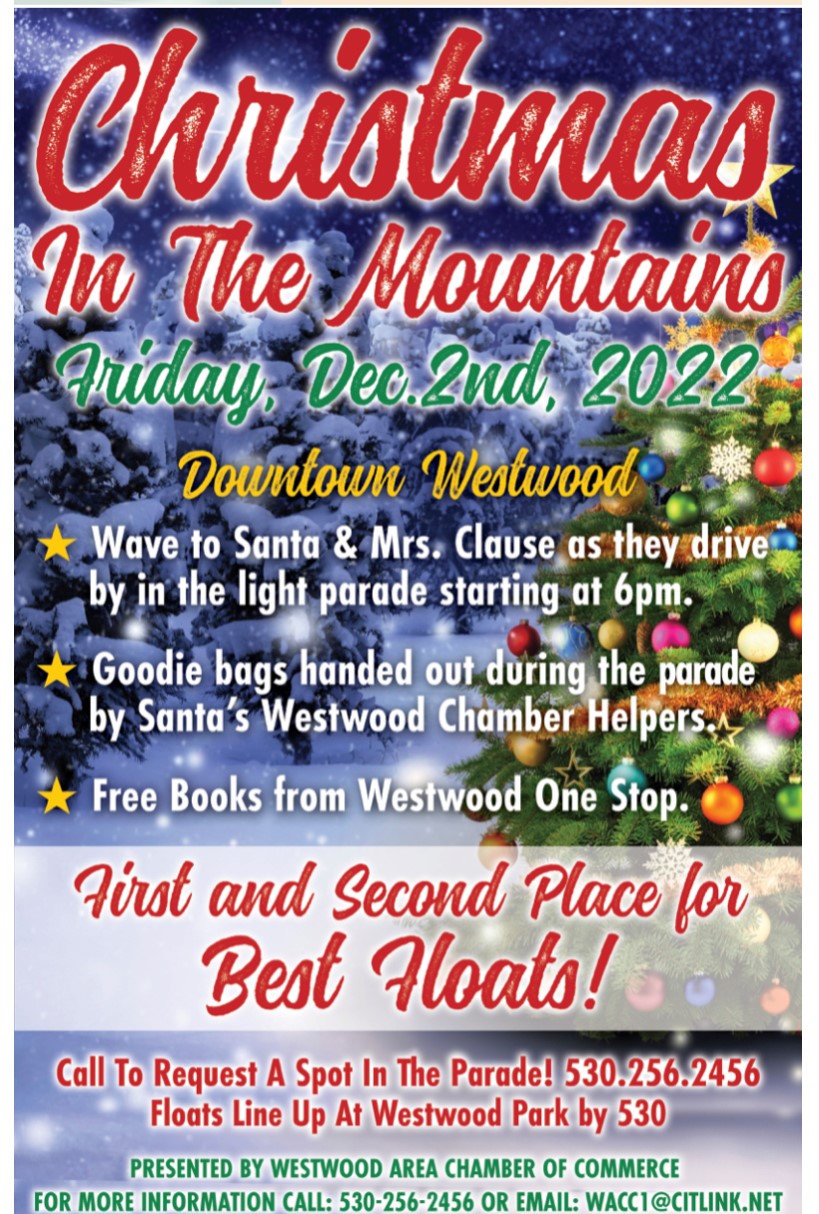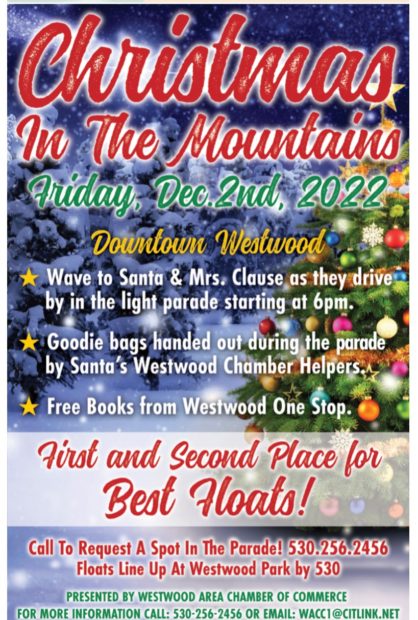 Christmas in the Mountains Downtown Westwood December 2nd
Wave to Santa & Mrs. Claus as they drive by the light parade starting at 6:00p.m. Goodie bags handed out during the parade by Santa's Westwood Chamber Helpers. Free books from the Westwood One Stop. First and second prizes for best floats.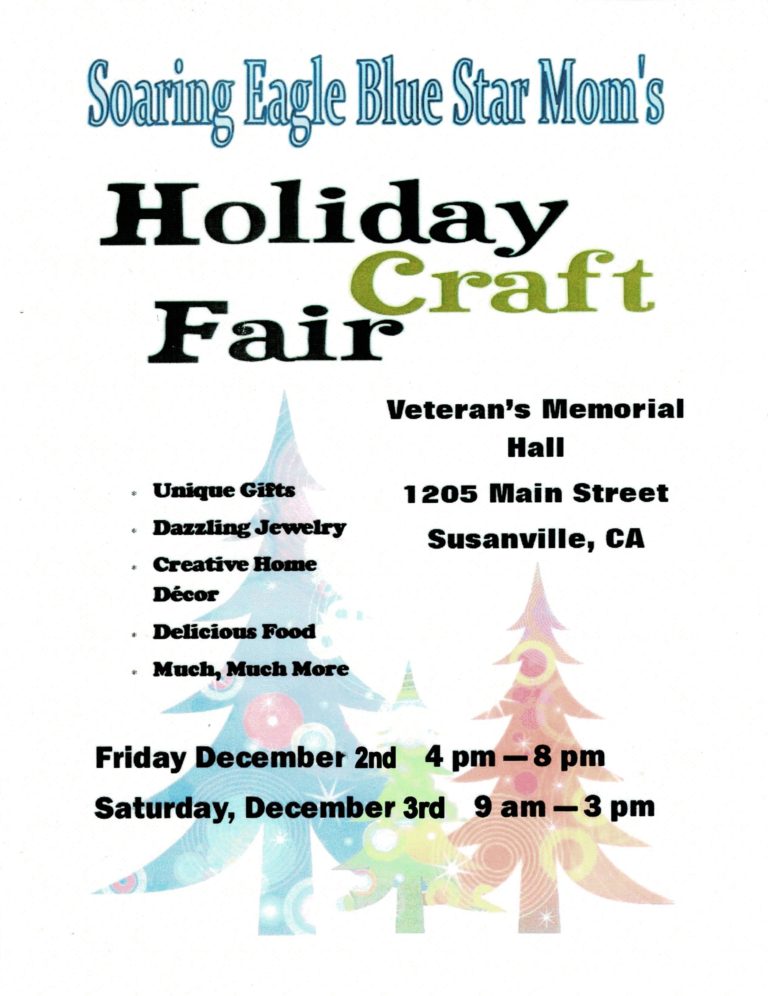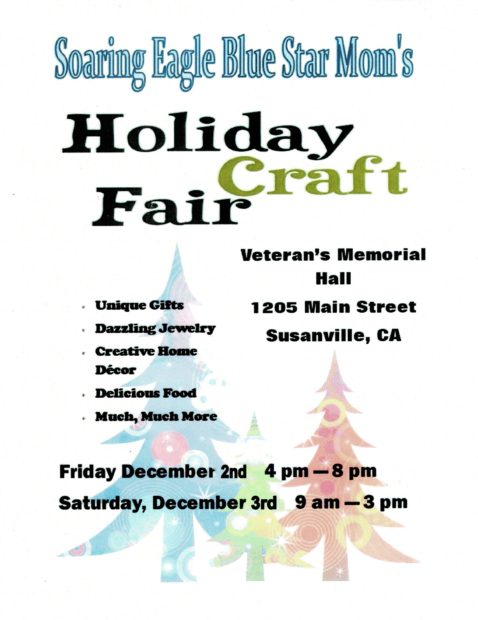 Soaring Eagle Blue Star Mom's Holiday Craft Fair
December 2nd and 3rd
Susanville Blue Star Moms craft fair, Friday, December 2nd and Saturday, December 3rd at the Veterans Memorial Hall. For more information, or to become a vendor, contact 530.310.1361.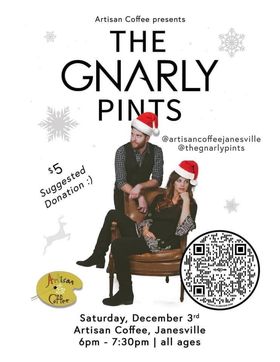 Artisan Coffee Presents: Gnarly Pints December 3rd
Saturday, December 3rd at the Artisan Coffee in Janesville, The Gnarlky Pints. 6:00 – 7:30p.m., good for all ages. A $5 donation is suggested.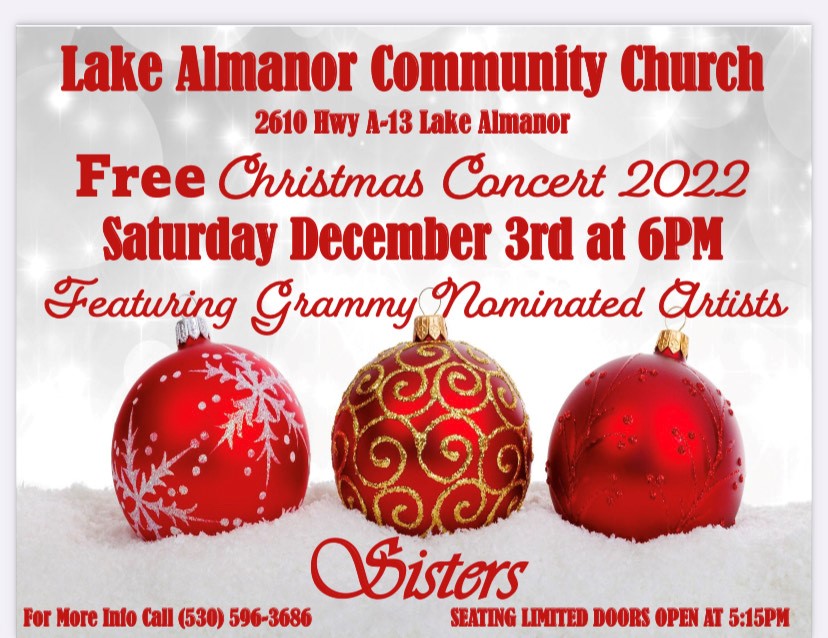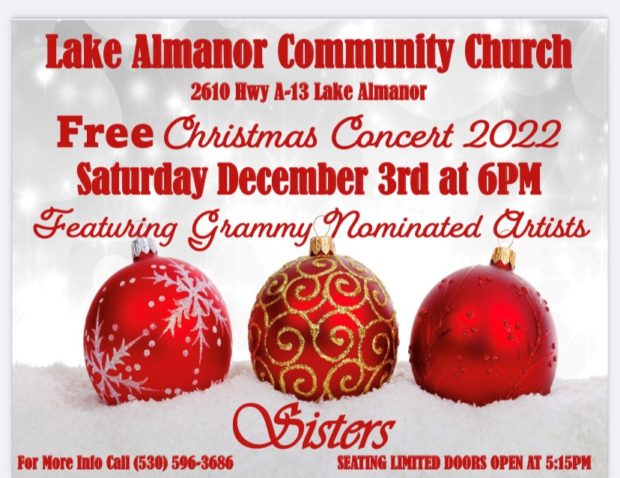 Lake Almanor Community Church
Free Christmas Concert
December 3rd
Lake Almanor Community Church will hold a special, free Christmas Concert December 3rd, featuring Grammy nominated artists, 'Sisters.' Kim Ruppe Sheffield, Heather Ruppe Bennett, and Valerie Ruppe Medkiff, all sisters, tour the country, reaching out to people of all ages and musical tastes. The church is located at 2610 Highway A-13 at Lake Almanor. Doors open at 5:15p.m., the concert begins at 6:00, and seating is limited. For more information, please call 530.596.3683.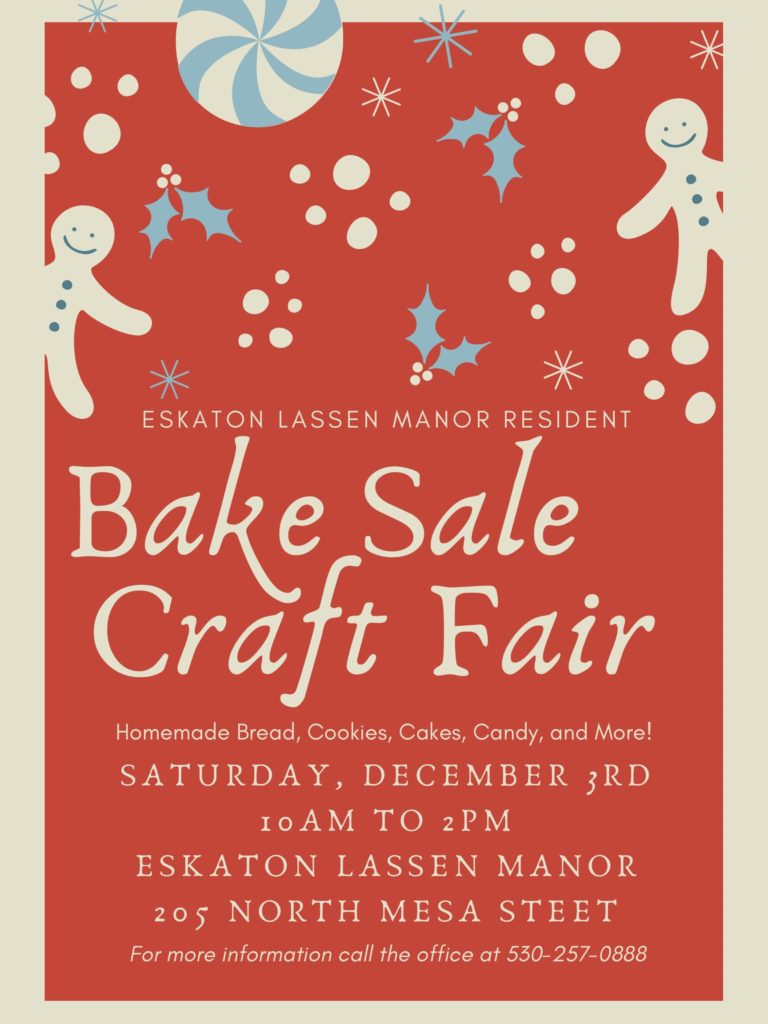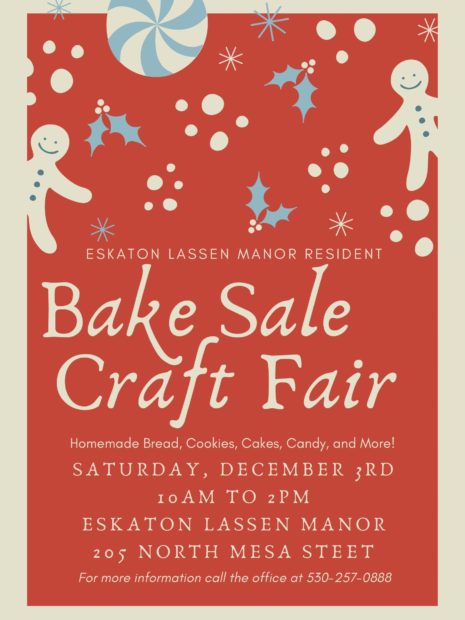 Eskaton Lassen Manor Residents Bake Sale and Craft Fair December 3rd
Homemade Bread, cookies, cakes, candy and more. Saturday, November 3rd 10:00 – 2:00p.m., Eskaton Lassen Manor 205 North Mesa Street.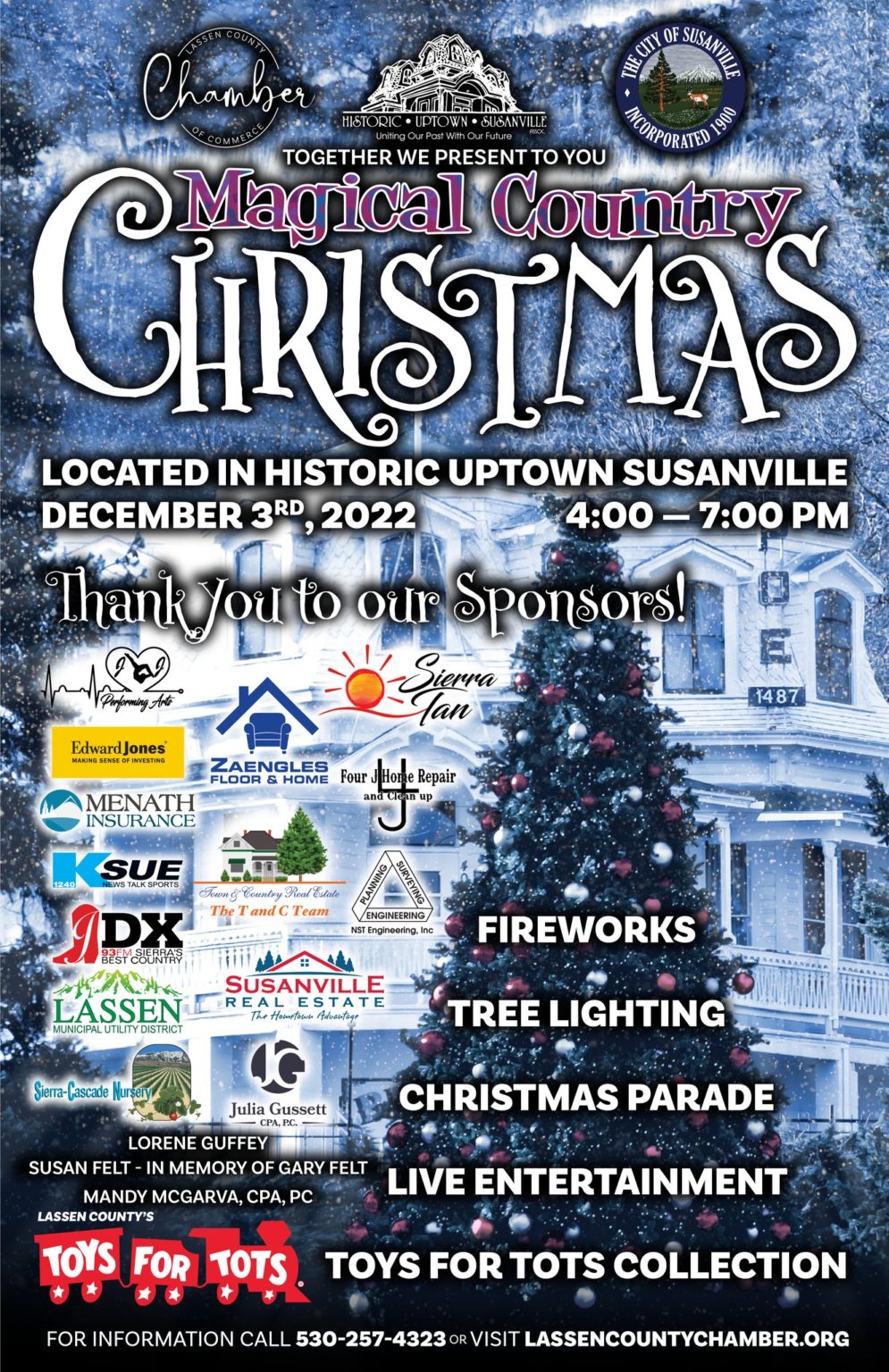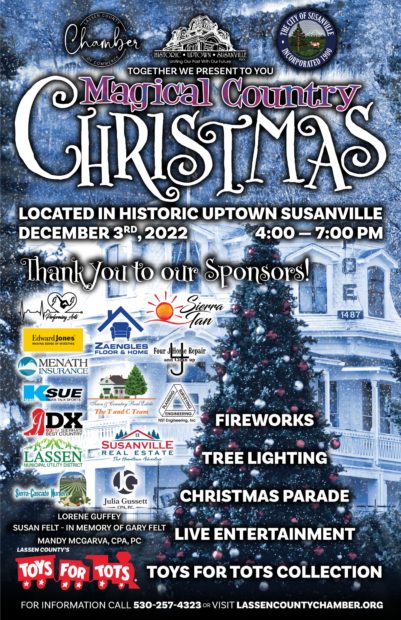 Magical Country Christmas
December 3rd
Magical Country Christmas Saturday, December 3rd from 4:00 – 7:00p.m. Ring in the Holiday season with Santa's grand entry parade, Christmas tree lighting, fireworks, vendors, food and beverages, a hot toddy walk for adults 21 and over, and free photos with Santa and Mrs. Claus.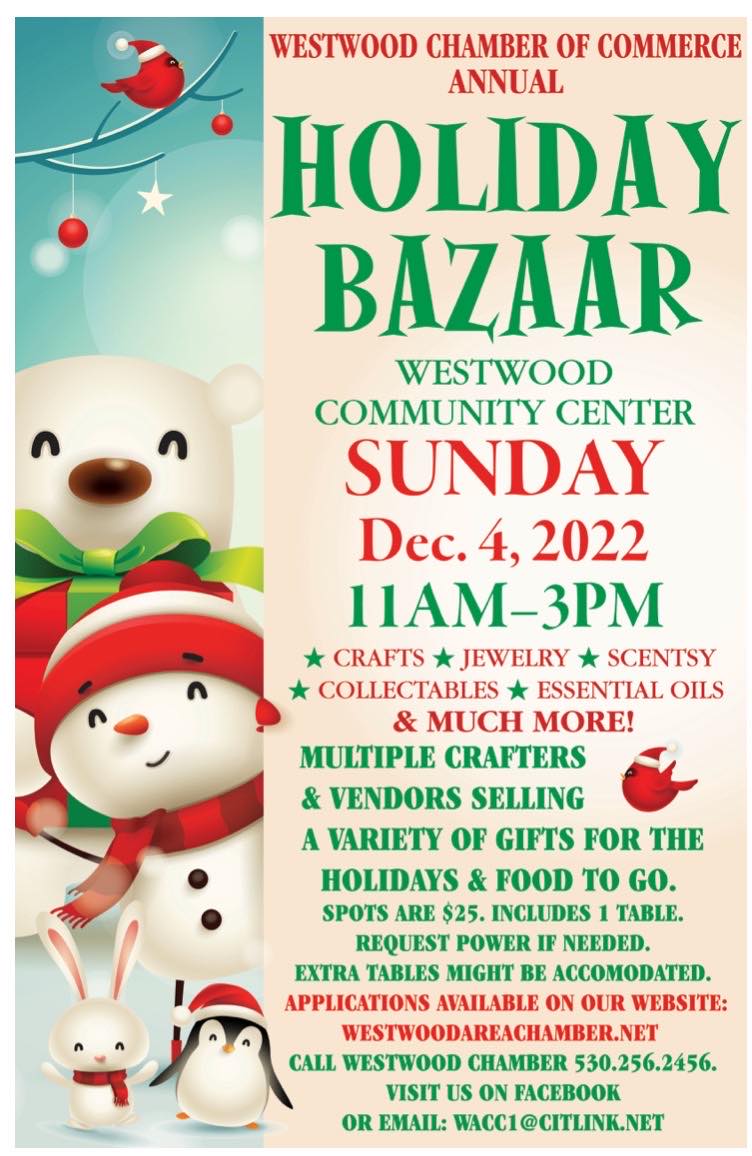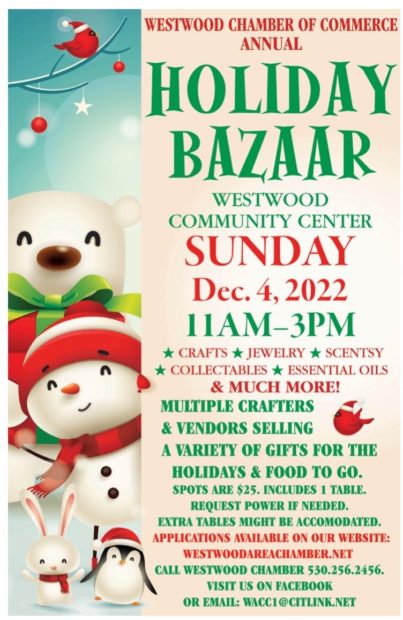 Westwood Chamber of Commerce Holiday Bazaar December 4th
Holiday Bazaar at the Westwood Community Center December, Sunday, 3rd from 11:00 – 3:00p.m. Crafts, jewelry, Scentsy, collectibles, essential oils and more.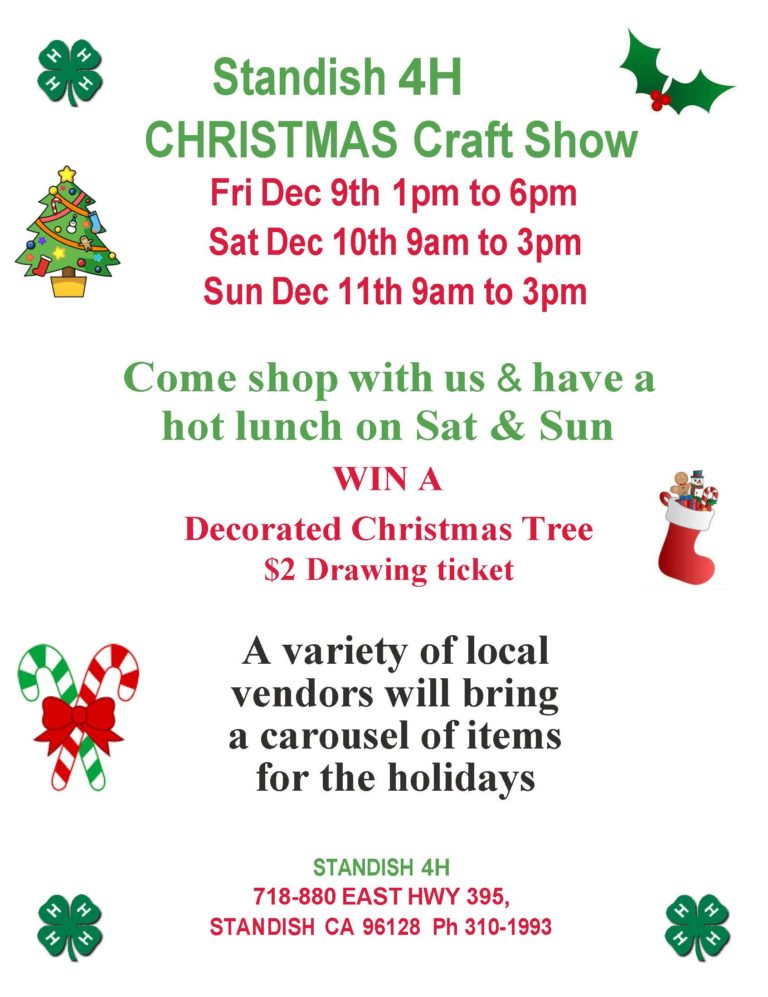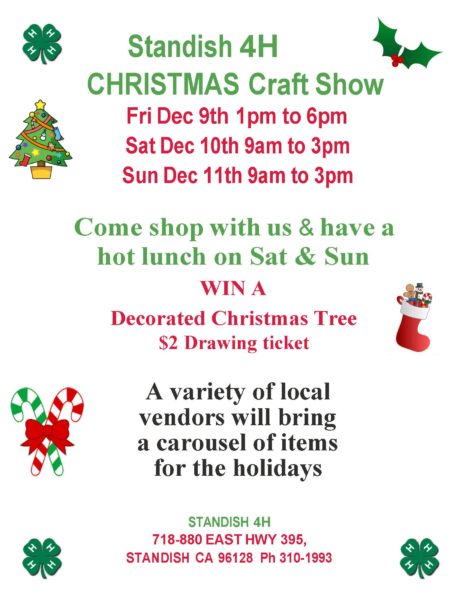 Standish 4H Christmas Craft Show
December 9th, 10th and 11th
Come shop with Standish 4H and have a hot lunch on Saturday and Sunday. Win a decorated Christmas tree. A variety of local vendors will bring a carousel of items for the holidays.
District 20 and Alcoholics Anonymous Sober Holiday Dance
December 9th
District 20 and Alcoholics Anonymous Invite you to their Sober Holiday Dance featuring Forgery playing live at the Lassen County Fairgrounds – Jensen Hall. 7:00p.m., free pulled pork sandwiches and tacos (donations are accepted). Bring a dessert for the Dessert Auction! This is a family-friendly event and kids are welcome. If you need more information, please contact Jodie at 530-816-0592 or Jay at 530-251-7211.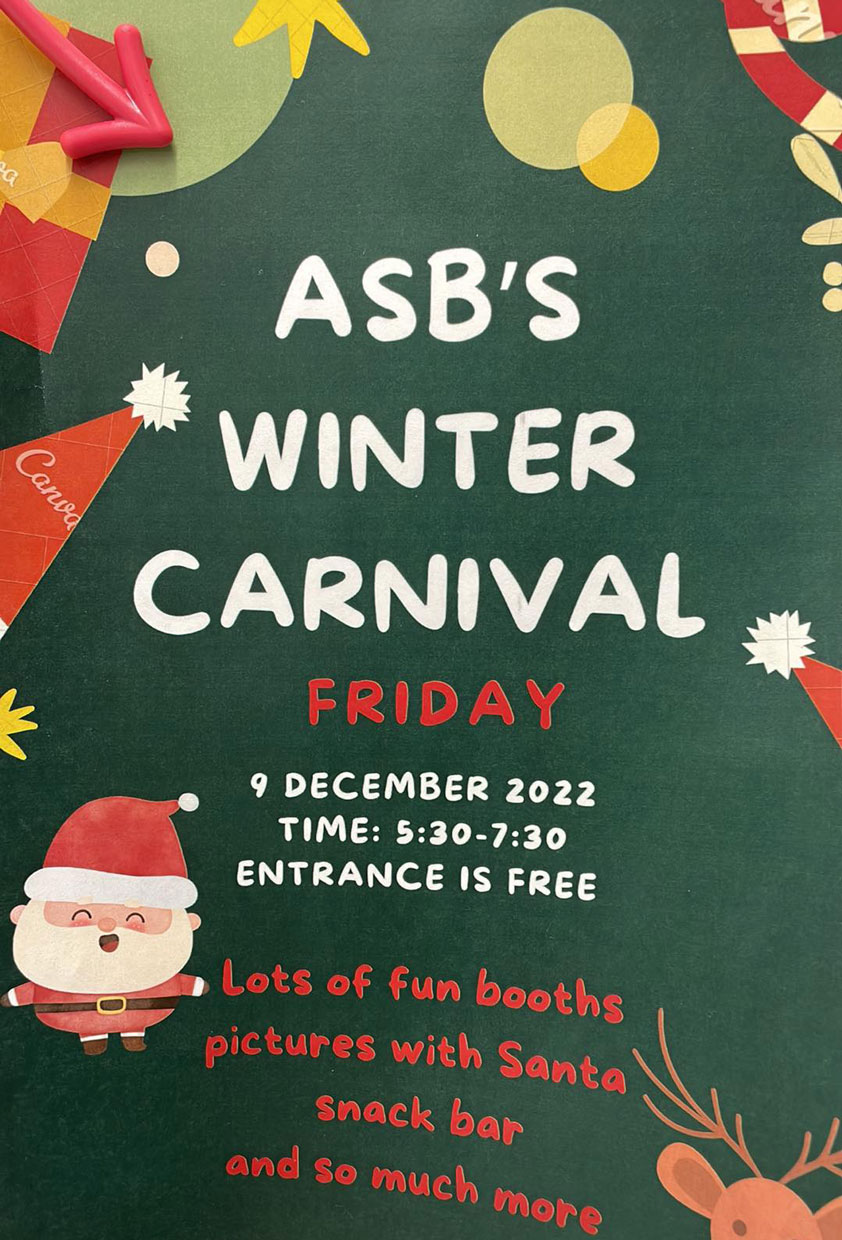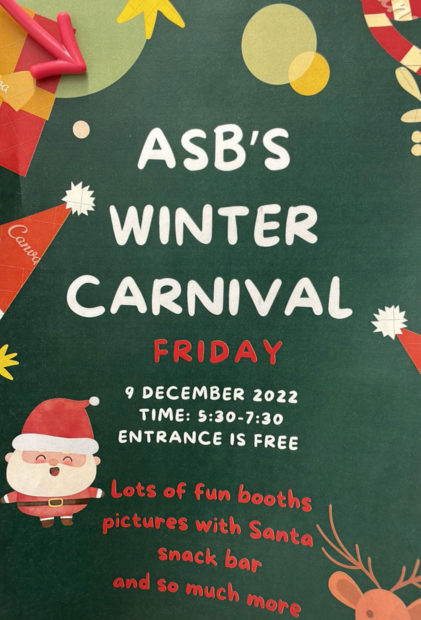 Lassen High ASB Winter Carnival
December 9th
Lassen High ASB will be putting on a Winter Carnival from 5:30 to 7:30p.m. There will be food, activities, vendor booths, and a special performance. Admission is free.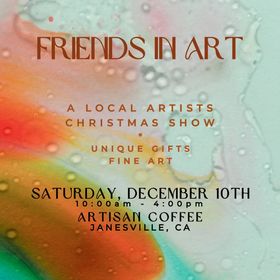 Friends in Art, Local Artists Christmas Show
December 10th A local Artists' Christmas Show, unique gifts and fine art. 10:00 – 4:00p.m., at the Artisan Coffee, in Janesville.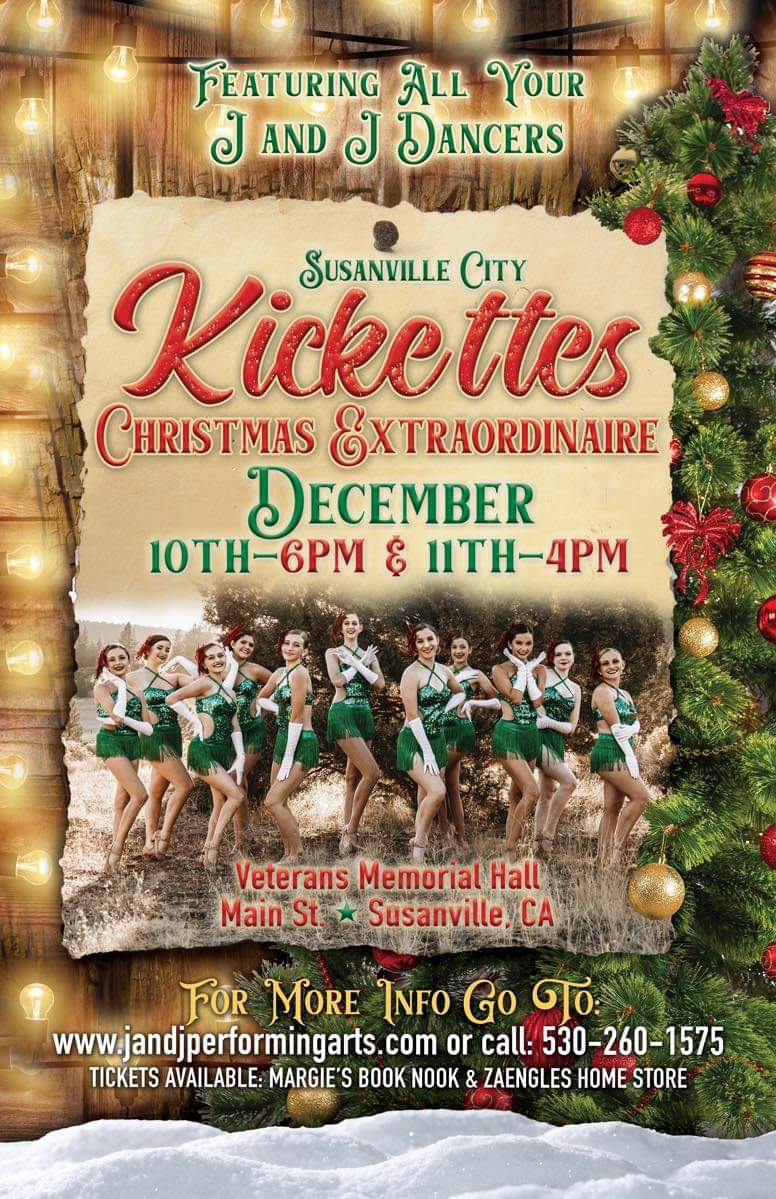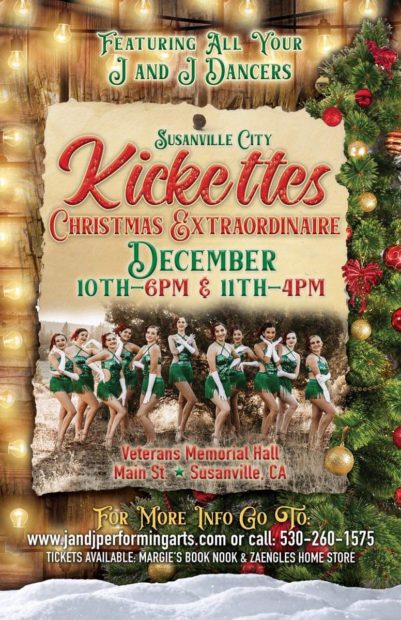 Susanville City Kickettes Christmas Extraordinaire December 10th and December 11th
Susanville City Kickettes bring you their Christmas Extraordinaire, on December 10th at 6:00p.m, and December 11th at 4:00p.m., at the Veterans Memorial Hall. All J&J Dancers, singers and performers will be showcased at this recital. Tickets will be available at Margie's Book Nook & Zaengles Home Store.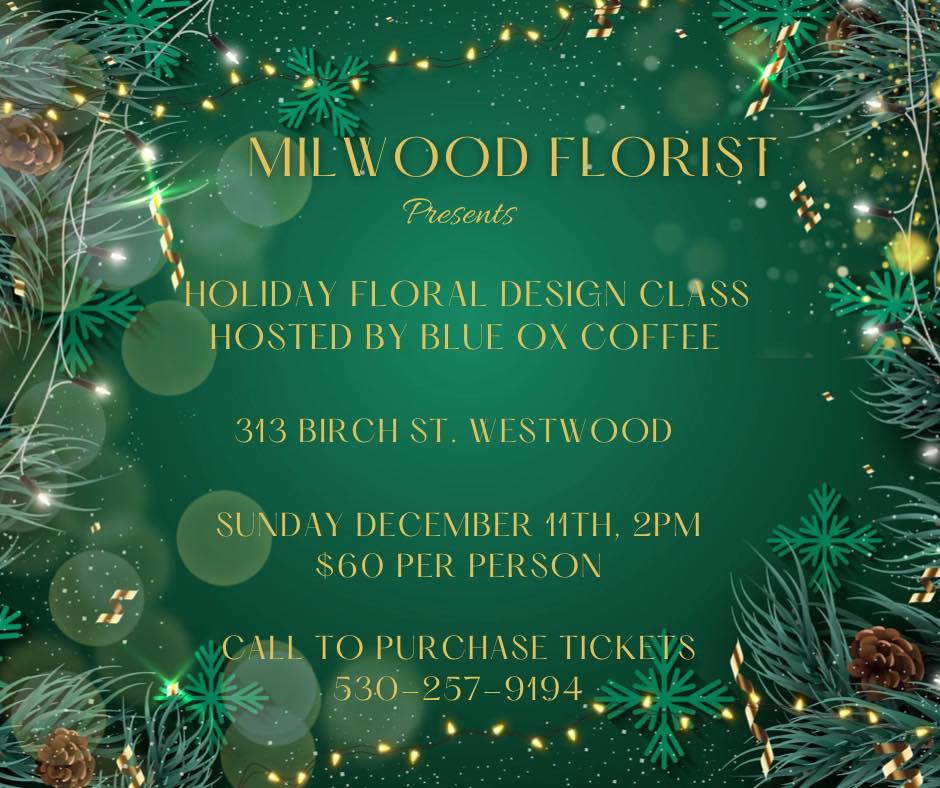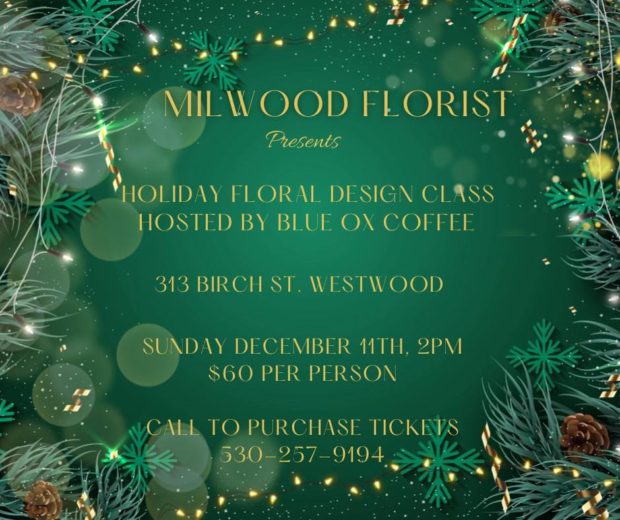 Milwood Florist Holiday Floral Design Class December 11th
Milwood Florist Holiday Floral Design Class hosted by Blue Ox Coffee, 313 Birch Street, Westwood. Sunday, December 11th at 2:00p.,.. The cost is $60 per person. Call 530.257.9194 to purchase tickets.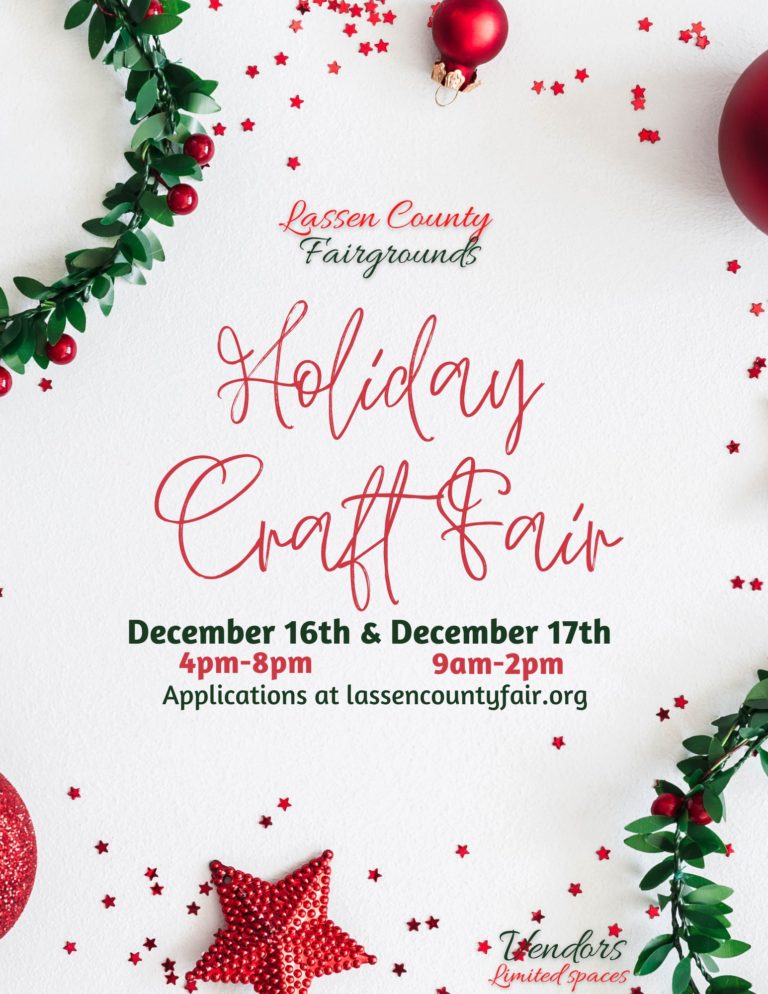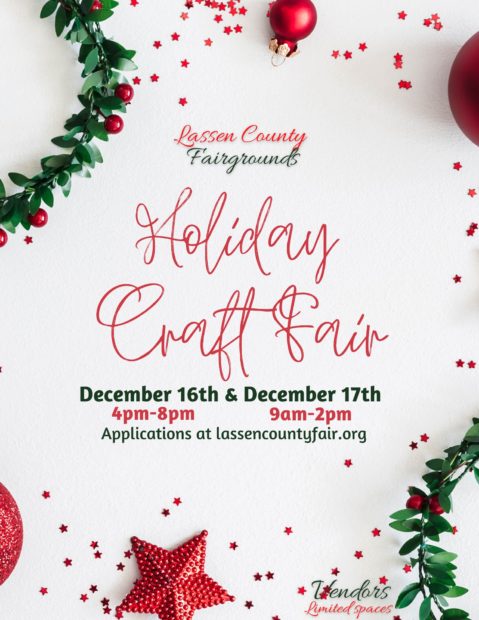 Fairgrounds Holiday Craft Fair
December 16th and 17th
The Lassen County Fair's annual Holiday Craft Fair is a huge two-day event featuring everything from hand-crafted wooden toys to homemade maple syrup. It is the perfect place to shop for that hard-to-buy-for person on your Christmas shopping list. Crafters fill up several buildings on the fairgrounds with great gift ideas. Featuring pictures with Santa. The show opens on Friday, December 16th from 4:00 to 8:00p.m. and on Saturday, December 17th doors will be open from 9:00 to 2:00p.m.
Susanville Auto Center Santa's Village
December 16th
Susanville Auto Center presents Santa's Village. Friday, December 16, 2021, from 4:00 – 6:00p.m., located at Susanville Auto Center, 704-485 Richmond Rd E. Susanville. This event includes a visit with Santa, free 4X6 photos, Hot coco, treats and a craft for the kids. Toys for tots on site, bring a new unwrapped toy if possible.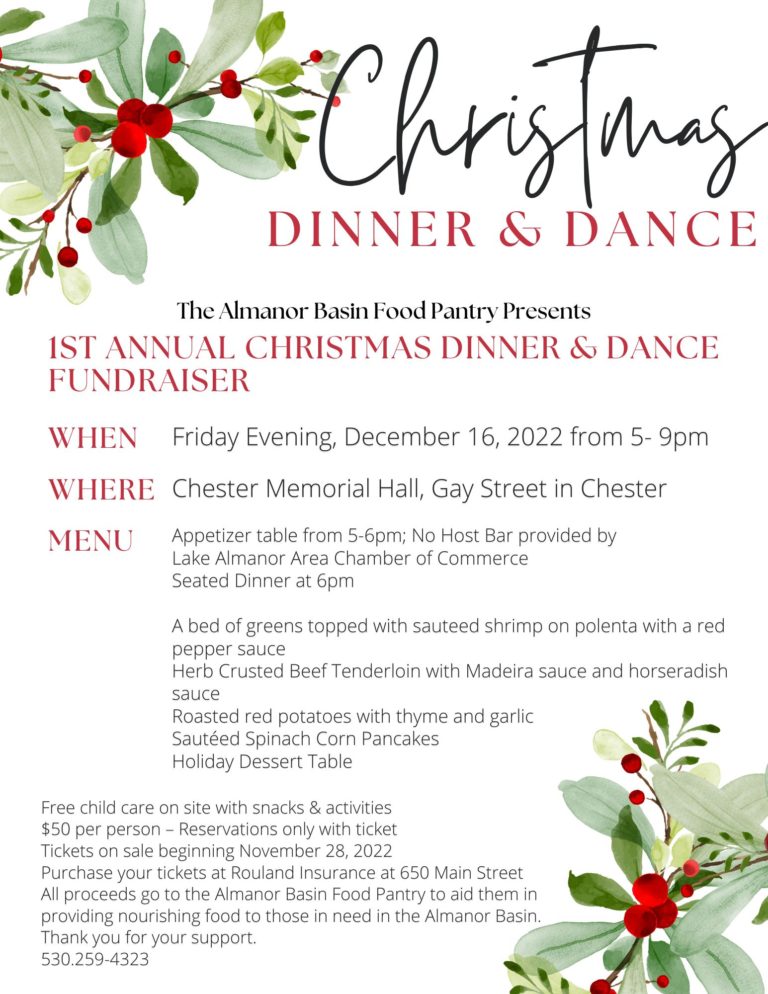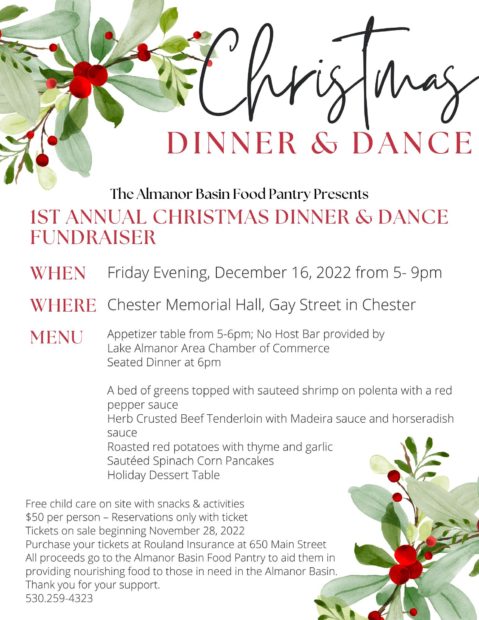 Lake Almanor Basin Food Pantry
Christmas Dinner and Dance
December 16th
1st annual Christmas and Dance Fundraiser will be held Friday evening, December 16th from 5:00 – 9:00p.m. at the Chester Memorial Hall on Gay Street. Appetizer table from 5-6:00p.m.; No Host Bar provided by Lake Almanor Area Chamber of Commerce, Seated Dinner at 6:00p.m. Free child care on site with snacks & activities, $50 per person – Reservations only with ticket. Tickets on sale beginning November 28, 2022
Purchase your tickets at Rouland Insurance at 650 Main Street. All proceeds go to the Almanor Basin Food Pantry to aid them in providing nourishing food to those in need in the Almanor Basin.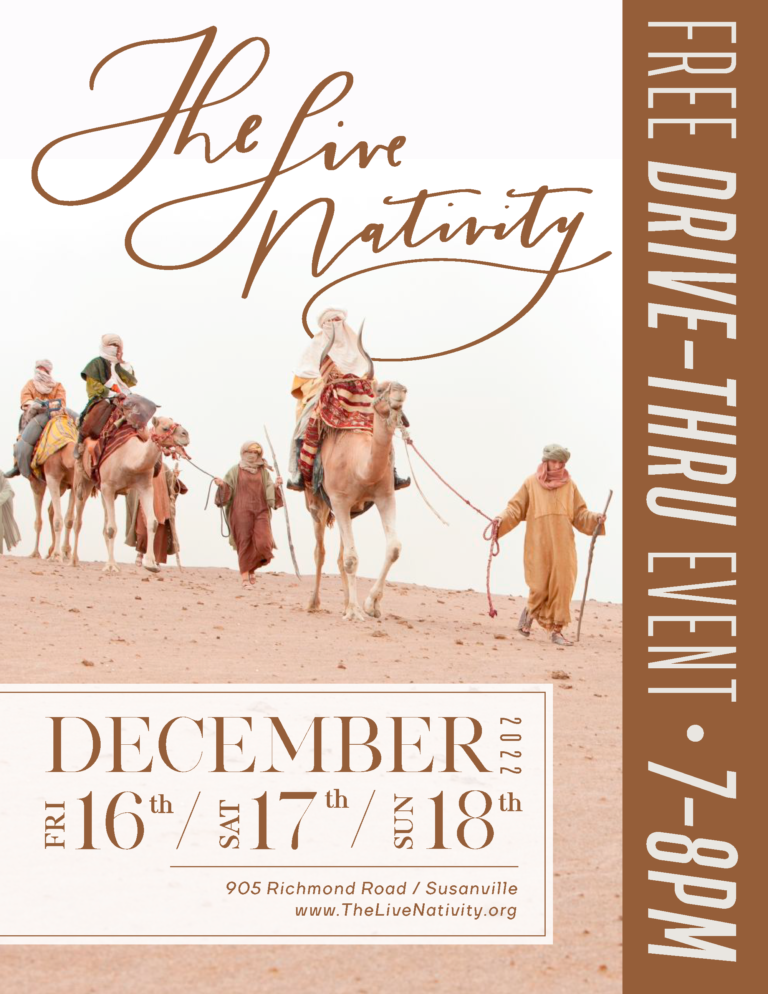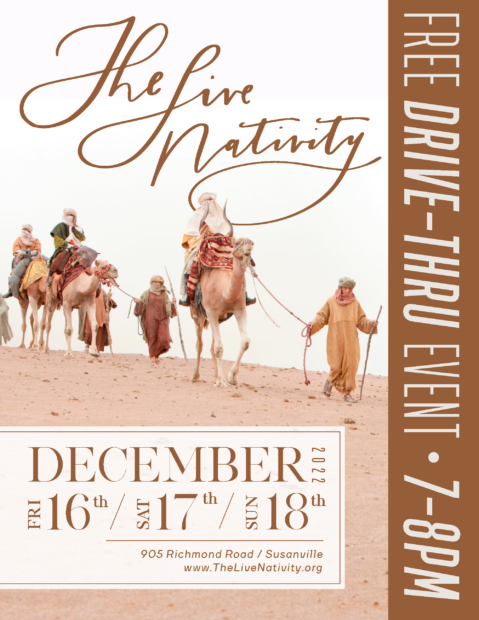 Live Nativity Drive-Thru
December 16th, 17th and 18th
This family-friendly, outdoor Live Nativity will run for three nights. Friday, December 16th through Sunday, December 18th from 7:00 – 8:00pm each evening. Admission to the Live Drive-Thru Nativity is free. You can arrive anytime between 7:00 and 8:00pm. The line will be on Richmond Road and wait times may vary. This event is open to the public and located on the grounds of The Church of Jesus Christ of Latter-day Saints, 905 Richmond Road across from Diamond View Middle School.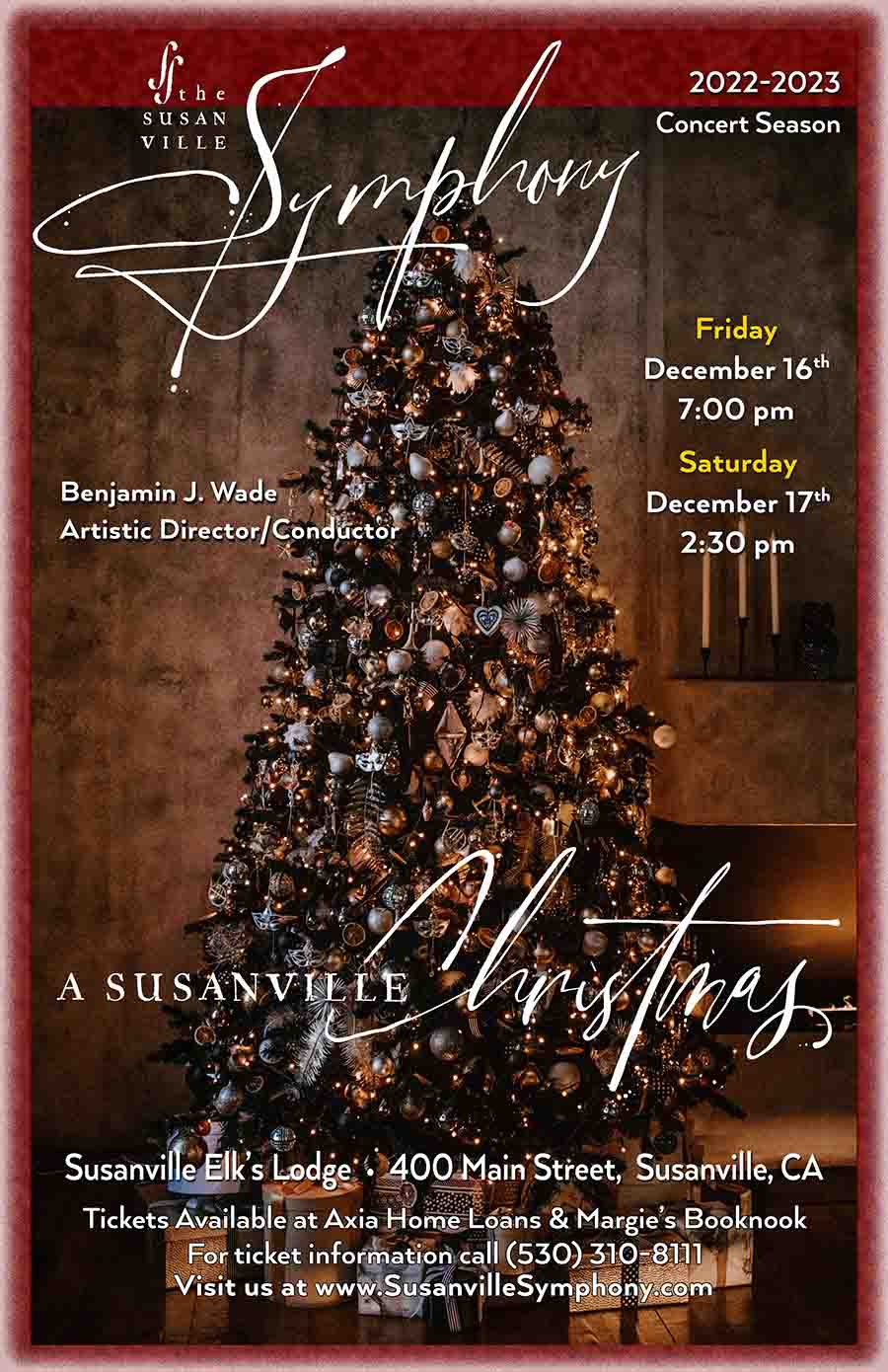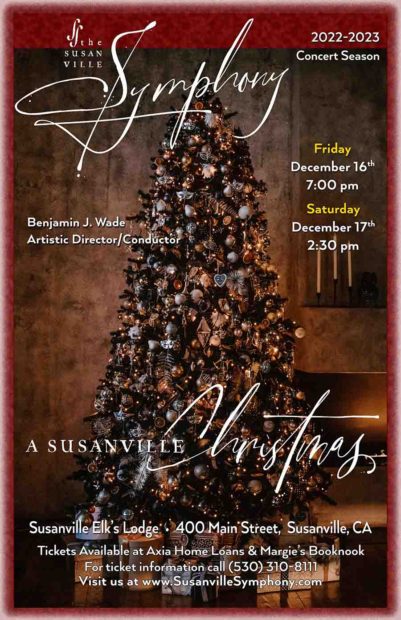 The Susanville Symphony Presents:
A Susanville Christmas
December 16th and 17th
Audience sing-a-longs, special soloists and more bring you closer to your family and to the holiday spirit that encapsulates this beautiful area we live in. Friday, December 16th at 7:00p.m. and Saturday, December 17th at 2:30 p.m., at the United Methodist Church. Tickets will be available at Axia Home Loans and Margie's Book Nook.
If you would like to add your group or organizations event to our list, please email your flyer and information to submissions@susanvillestuff.com