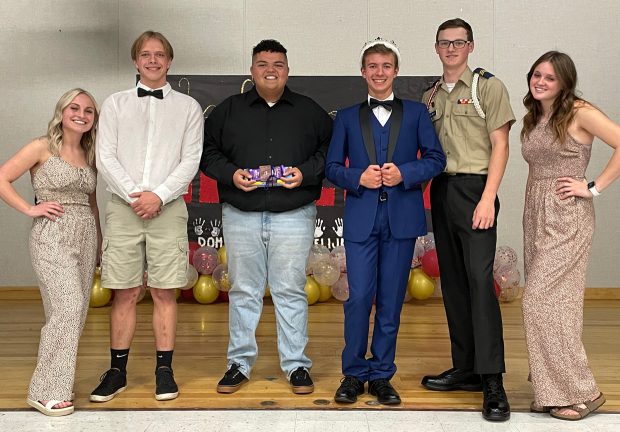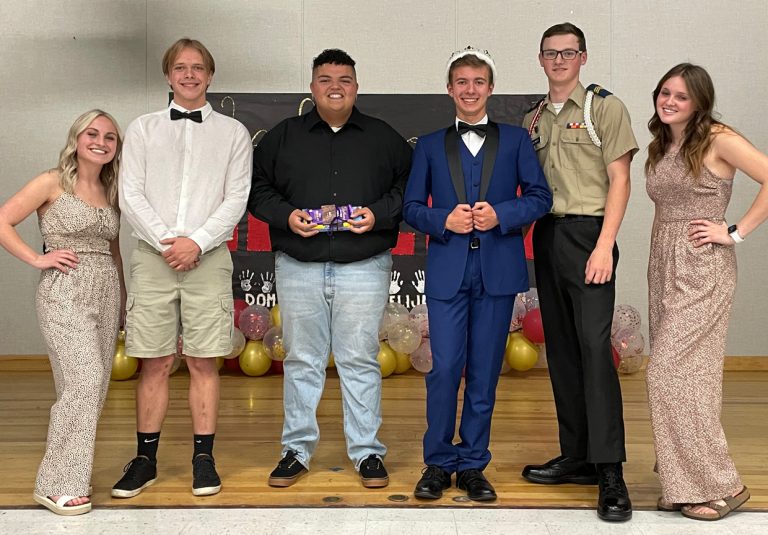 By Shelley Bennett

After a two-year hiatus, the Lassen High School ASB class presented the Mr. LHS competition on the red-carpet last week.
The evening showcased four of our senior men presenting their skills in public speaking, talent, and impromptu question.
Mariah Beckman and Katelyn Johnson hosted the show and were very upbeat and professional.
The stage was decorated in a black, gold, and red theme by the ASB class and concessions of popcorn and soda were for sale.
To open the show, the contestants performed an entertaining routine choreographed by Izzy Norwood and Mariah Beckman. They were clad in khaki shorts, white button downs, and black bow ties.
Dominic Smith was escorted by his aunt Kim as he welcomed the audience. Jojo Villareal was accompanied by his mom Tatiana. Zak Mallery walked arm in arm with mom Tami, while Nevan Palmer strolled up the red carpet with his mom Christy.
Next up was talent. Dom, a professional "swooner", flexed various muscle groups to show off his physique. In a dance routine, Jojo demonstrated several complicated lifts with partner Liv Ormachea.
With smooth vocals and choreography, Zak sang the Michael Buble song, "Feeling Good." Nevin went through a parkour routine by flipping and rolling all over the floor.
During the impromptu question, each contestant was asked two questions. When Dom was asked what he would do with a degree in psychology, he spoke of how he wanted to help people. Jojo recalled being instrumental in getting things done for ASB last year even though he didn't hold an office.
Zak expressed his desire to play Alexander Hamilton when asked about his dream Broadway role. Nevin said he would tell incoming freshmen to get involved in clubs and sports during high school to make it more fun.
The judges (Mrs. Huber, Mr. Nugent, and me) had a very difficult job as all of the contestants were charming, talented, and comfortable with public speaking. While they deliberated, a comp team from J&J Performing Arts danced.
At the end of the night, Zak Mallery was crowned Mr. LHS 2022 with Jojo Villareal as first runner up to the thunderous applause of the audience.
---
Remember when news was 'newsy'? When you read about weddings, family events and engagement announcements in the newspaper? If you have something that might be newsworthy, please submit it to shelleybennett24@gmail.com and I'll do my best to include it here in "The Good Stuff."