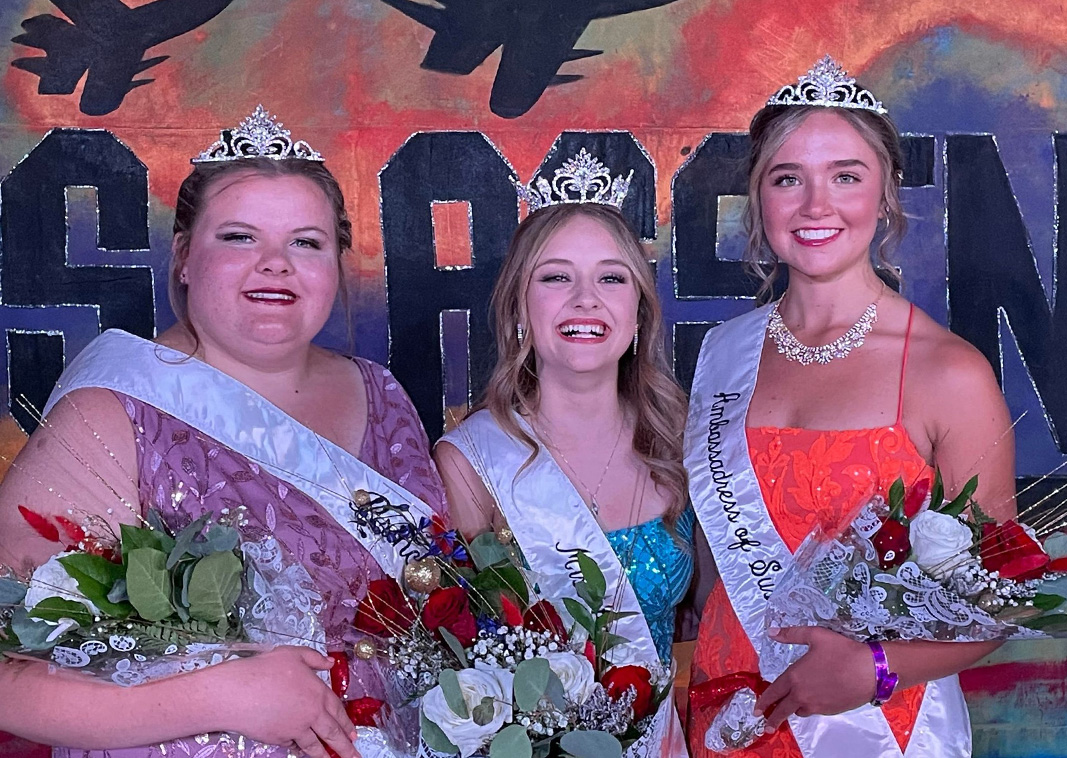 Olivia Ormachea, a petite blonde beauty, was crowned Miss Lassen County last week in front of a capacity audience. Clad in a sparkling turquoise gown, Ormachea was also recognized for having the Best Talent with her performance of a lyrical dance to "You Say" and Most Photogenic.
Olivia is joined by first runner up, the Ambassadress of Susanville Saydee Mueller and Princess Rebecca Kirklin to complete the 2022 court. Mueller entertained the crowd while playing "Good Night Irene" on the accordion while Kirklin played "A Million Dreams" on the piano during the talent portion.
To round out the awards, JoHanna Parvin was recognized as Miss Congeniality from the fellow contestants and Morgan Merrill earned the Community Service Award. Parvin also played the piano, an Alecia Keys song "If I Ain't Got You" and Merrill sang the introspective song "Voices".
Each of the eleven contestants chose a talent that best showcased their abilities. Trinity Crandall performed a spicy Latin routine and Alexa Schmidt put together a mix of songs with a girl power theme for her dance. Alyssa Zimmerman highlighted her grace and flexibility in a lyrical number "Fire on Fire".
Caitlin Fine shared advice with her younger sister in her public speaking presentation. Claire Robinson spoke on how moving to Lassen County has been a benefit to her. Christa Williams presented the song "The House That Built" with sign language accompanied by images from local photographers.
The contestants also competed on stage in communication skills with a short introductory speech and answered an impromptu question during the poise in evening gown section. Juniors Connor Langslet, Nash Osborne, and Tucker Schall served as escorts and stagehands.
Prior to the evening's competition the contestants had a short personality interview with the judges. Their community service hours and scholastic achievements were also taken into account.
In addition to the contestants, the audience enjoyed performances from Joan's Studio of Dance, J&J Performing Arts, and Dance Elevation. Each studio demonstrated their unique style with dances in the lyrical, jazz, hip hop, and swing genres.
A heartfelt good-bye was given to Miss Lassen County 2021 Alliyah Yerington as she handed down her title. Alliyah has been a faithful servant to our community and many were touched by her heart of gold during her reign. She is attending Vanderbilt University in the Fall.
Her court, consisting of Ambassadress of EmmaLee Rotlisberger and Princess Georgia Bennett, will also continue their education. Rotlisberger at the University of Montana and Bennett at Lassen Community College.
The Miss Lassen County Pageant is a 54-year old tradition that kicks off the Lassen County Fair. Jeremy Couso served as the witty and warm emcee who started the Top Gun themed-evening with an exciting introduction of the eleven contestants.
Their high-energy opening number to "I Ain't Worried" choreographed by Jillaine Singleton was matched by the cheers and noise made in the audience. There were several signs and other props to show who the crowd was rooting for. A fiery sunset painted by Alison Templeton set the perfect scene at the back of the stage.
Adelin McClure then sang the National Anthem. She was joined by sister Aubrey Edholm and Annica Scroggin in a short advertisement for the upcoming Wizard of Oz presented by Best of Broadway in August.
While the contestants prepared for talent, Alliyah introduced visiting royalty, including the Intermountain Fair court, Mr. LHS Zak Mallery, and toddler titleholder Joey Vorlicky. She then assisted with the crowing of the new Little Miss and Mr. Lassen and court.
2021 Little Miss Gianna Foreman crowned Kimber Weire and Little Mr. Fletcher Thornton handed his title over to Colton Haynes. The 2021 Princess Aubrey Edholm crowned Peyton Anderson and Prince Jace Presswood congratulated new Prince Jaxen Stout.
The 2021 court later presented a cute commercial to honor pageant sponsor Advanced Comfort Control.
Since Wednesday, Olivia and her court were seen around the fairgrounds judging the cinnamon roll contest, serving lunch at the Old Timers luncheon, and attending concerts. They were highlighted in the parade and met Tracy Lawrence backstage. It's just the beginning of a year full of community activities and memory-making events.
---
Since 1994 I have been involved in directing the Miss Lassen County competition. I am lucky to have lots of help, including the talents of Jen Wood, Becky Hubbard, and Jillaine Singleton.
My sister Alison Templeton has been painting the backdrop for more years than I can remember. Every year she listens to my vision and every year she exceeds it.
In addition, I am indebted to my friends Becky, Dawn, Salome, and Kerrissa who help backstage, hairdressers BJ Ryan, Lauren Mueller, Rita Heath, Debbie Sturgeon, Ashleigh Adair, Christy Palmer, and Bailey Heath, make up artists Barbara and Macy Rauch, Gracie Claypool (judges' assistant), and Mandy McGarva, CPA. Tara Bias, with daughters Julia and Shelby, made sure that the music started on time.
Kaitlyn Midgley, Danae Polan, Rikki Bird, and Calliope Rose have been upbeat and positive every time I've set foot in the fair office.
And of course, I couldn't do it without my husband Leo who finds everything for me and makes sure we have lights backstage and Jake, Landon, and Sofia who are ok with mom being gone two nights a week.
---
Remember when news was 'newsy'? When you read about weddings, family events and engagement announcements in the newspaper? If you have something that might be newsworthy, please submit it to shelleybennett24@gmail.com and I'll do my best to include it here in "The Good Stuff."