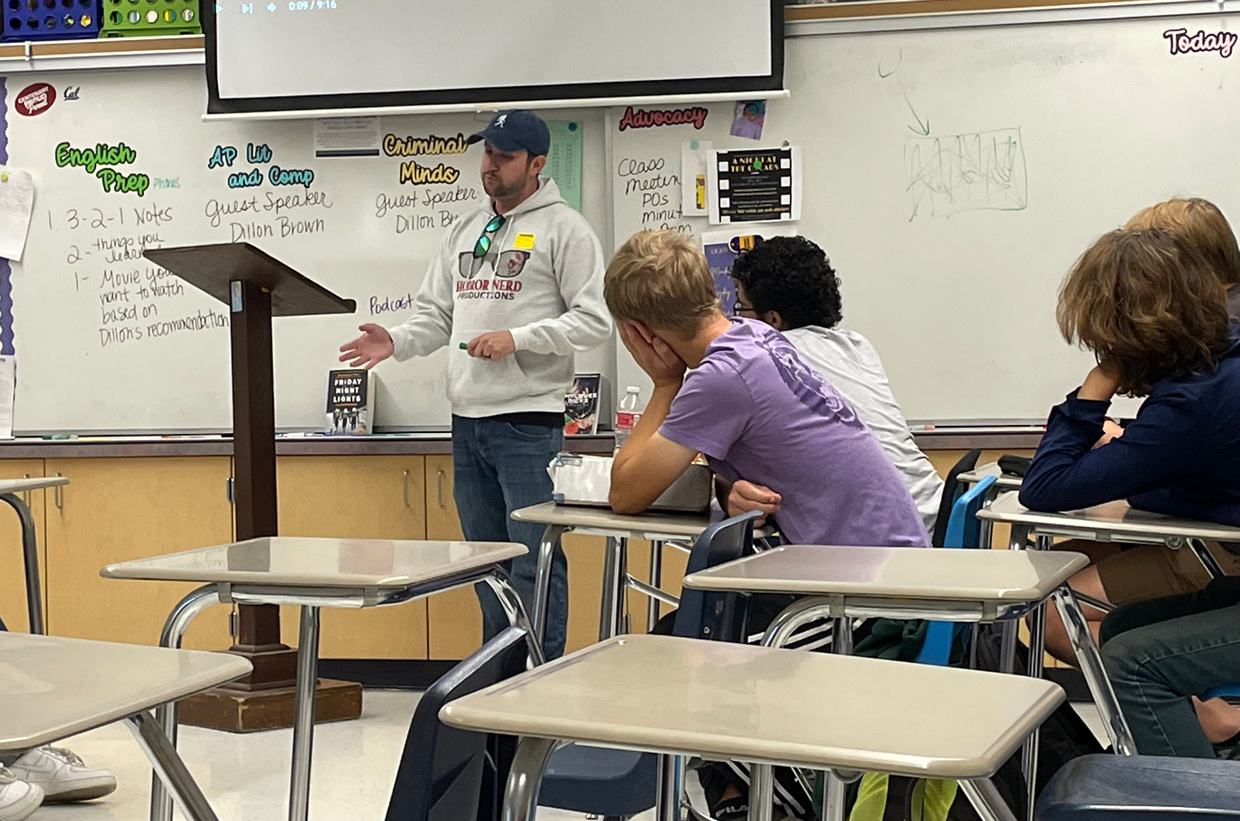 by Shelley Bennett
As you read this, it is the day after Halloween and most of our kids have crashed from their candy "high" and are back to school with their teachers. Pray for them, the teachers I mean.
Halloween is my favorite time of year. The weather is cool, the leaves show off, and it's fun to be scared. I started the month by watching Hocus Pocus 2 with some friends and family. We set up our inflatable screen outside and bundled up with blankets, popcorn, and movie candy.
I know there was a lot of online criticism of the sequel, but I thought it was funny with just the right amount of spooky.
Later in the month, Dillon Brown, a former student and current filmmaker paid a visit to my classroom. Dillon is the biggest fan of scary movies and Halloween that I know. I always read his reviews because he is hilarious and articulate but can never actually bring myself to watch the movies, because I'm such a chicken.
It's enough for me to just read the reviews.
Dillon came to talk to my class about making movies. He is proof that it can be done without a budget (or a very small one), when you have another job and family, but also a love for movies.
As Dillon explained what he does, my class was enthralled. He talked about making his own bigfoot costume, finding places to shoot, discovering actors, and learning how to edit the footage himself. He loves the horror genre and I was intrigued when he analyzed the effect of historical events on scary movies.
He's also a dad to two cute sons, husband to beautiful Juliana, and a full-time government employee, but he explained to the students that he finds time to work on his passion and encouraged them to do the same.
Dillon really wanted to communicate to students that they can find a way to do whatever they want without formal training or getting a degree. He even offered to critique their work and find film festivals and contests they could enter.
As his former English teacher, I can vouch for the fact that Dillon has always been very creative and a good writer. He has published several books, including a collection of horror stories called Employee Picks. Another former student, Sean Cochran, collaborated with him on that project.
Perfection, NV was the first of Dillon's films I watched. It was during quarantine, and he was challenged to make a movie with his phone in 24 hours. It's only about 5 minutes long, but it's a tasty little nugget.
It follows what happens in rural Nevada years after events portrayed in the popular movie Tremors of the early nineties. It's amazing what Dillon was able to do with just his phone. It's campy and cool and a nice little homage to classic horror films of the 80s and 90s.
The next was New World: A Jurassic World Fan Film. Another project of the pandemic, it fuses several viewpoints of filmmakers, news reporters, concerned citizens, and others as they watch what happens when the genetically engineered dinosaurs captured from Isla Nublar are set free.
The entire film was made for less than $40 and is a great tribute to Steven Spielberg and the Jurassic Park franchise. Both of these are available on YouTube and I highly recommend you check them out!
Dillon's full-length feature The Flock is now available on the streaming app Tubi. I'm in the process of watching it. I can only watch it in full daylight with nobody else at home so it's taking me awhile, but it is so well done!
The premise is there is a cult who is trying to summon a demon and that's all I've seen so far. It's already creepy and unnerving and has me looking over my shoulder after I watch the allotted 15 minutes per day.
The Flock has received great reviews and been nominated for several awards. Just a couple days ago, Dillon announced that his team won Best Film, Best Director, and Best Editing at the Reel Horror Fest in Chicago, IL.
I am really looking forward to his latest, Tahoe Joe, a mockumentary where Dillon and his friend Michael Rock set out to find the legendary man-monster. They venture into the Sierra Nevadas and I can't wait to see what they find.
Tahoe Joe will be released to streaming services in late November and the Theatrical Premiere of the movie will be held at the Sierra Theatre on December 9th.
Currently Dillon is raising funds for his next film: Ghost. It looks to be just as scary, if not more than The Flock. I promise to watch, because I want to support Dillon, even if it means a week's worth of nightmares!
It's incredible to see your former students living out their dreams. I'm so proud of Dillon and know there are many more stories in him.
I hope you'll check his work out. You can find Dillon on Facebook on the Horror Dadz Production page.
---
Remember when news was 'newsy'? When you read about weddings, family events and engagement announcements in the newspaper? If you have something that might be newsworthy, please submit it to shelleybennett24@gmail.com and I'll do my best to include it here in "The Good Stuff."