Hollywood Horse in Lassen Show
August 25th, 1943
"Silver" the horse with an outstanding movie career and pride of the late Buck Jones will be in the horse show Sunday afternoon at the rodeo and racing horse show to be sponsored by the Lassen County Sheriff's Posse and held at the Lassen County fair grounds.
"Silver" who is thirty-five years old, will be in the charge of Harold Bradford through consent of Mrs. Buck Jones.
Buck Jones, beloved cowboy, stuntman and horseman had more than 150 film credits to his name before perishing heroically in the fire at Boston's Cocoanut Grove less than a year ago while on a national tour to promote War Bonds.
Mr. and Mrs. Jones owned property and spent a great deal of time in Susanville.
"Funny Duster", who is twenty-eight years of age, will be in the parade, ridden by his owner Mrs. Velma Smith, who is the same age. "Funny Duster" has been half mile champion for many years on the Susanville track.
Click on the comic for a really big version to read!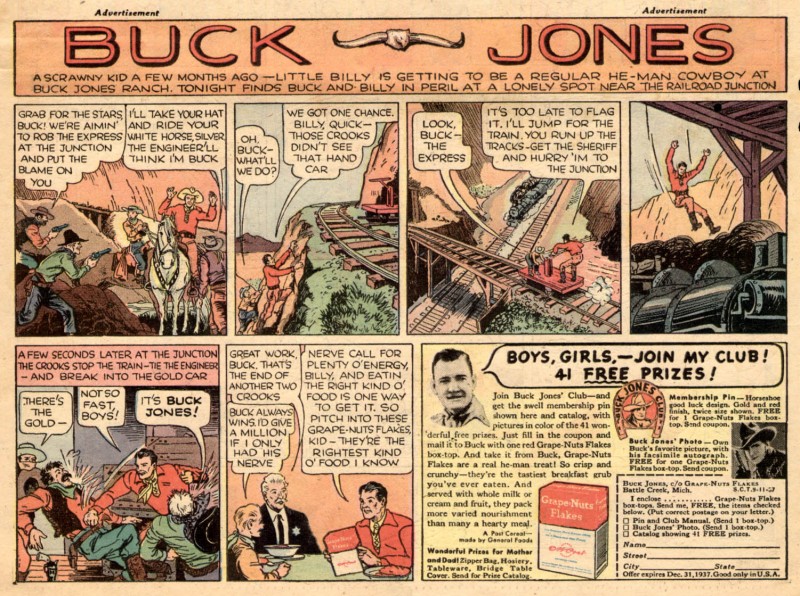 ---
We are always looking for new pictures to preserve and share in our historical photo collection and we would love to see yours.Your picture will be added to our digital archive for future use and we will make sure you receive credit whenever possible. Email your contribution along with your name and a short description of what you've sent to webxtra@susanvillestuff.com. A digital copy of every submission will also be donated to the Lassen Historical Society for preservation in their files.
Don't know how to scan your photos?

Our friends at the UPS Store have offered to professionally scan your vintage photo submissions for free. Just stop by 2850 Main Street in Susanville and they will be happy to help you.