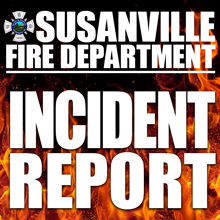 Three people were injured Friday night after a fire broke out on the first floor of one of the buildings that make up the Meadowbrook Apartment complex at 555 N. Roop Street, forcing one occupant to leap to safety from a second-floor window.
At around 10:00p.m., the Susanville Fire Department's Truck-1 crew responded to the reported structure fire and observed a ground-floor apartment that was fully involved and spreading into the apartment above, with multiple exposures on both sides.
"The crew was contacted by residents who stated that one occupant was trapped in the bedroom of his upstairs apartment," explains SFD Fire Captain Leon Myers. "The Truck crew made access to the unit with a ladder and extricated the person."
Hose lines were pulled, and an aggressive fire attack was made on the downstairs unit where most of the fire was located, while an additional crew made access to the second-floor apartments and worked to extinguish the fire and look for any extension into the attic space.
"Once the fire was controlled, all crew members worked to overhaul the apartments that were involved with fire and verify that there was no extension into the exposures. One unit was a total loss, one unit had major damage, and one unit had light damage."
According to Myers, three civilian injuries were reported on the incident: One occupant was injured jumping from a second-floor window, one occupant was treated for smoke inhalation, and one occupant was transported to a burn center.
There were no fire personnel injuries.
"The Susanville Fire Department would like to thank CDCR Fire Department, Cal-Fire, Lassen County OES, Lake Forest Fire Department, Chester Fire Department, Susanville Police Department, Lassen County Sheriff's Office, SEMSA, Susanville Public Works, LMUD, and Lassen County Public Health Department for assistance with the incident."
The fire's origin, according to the report, was in apartment 10 and the cause is currently under investigation.