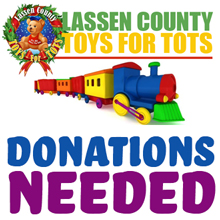 A last-minute push for contributions to Lassen County's Toys for Tots program has become a necessity as a lack of fundraisers this year have drastically depleted money that the organization desperately needs to make Christmas happen for hundreds of local children.
Each year Toys for Tots collects both new toys and cash contributions at events like the Magical Country Christmas celebration in uptown. This year however, with most events cancelled, Toys for Tots is reaching out to the community for help.
"Lassen County Toys for Tots is having a last minute fundraiser to help earn some more money to support children in Lassen County," explains organizer Robert Trussell.
"Unfortunately, this year, due to the Covid-19 restrictions, we have not met our fundraising goals and are making a last minute drive to raise at least another $2,500."
You can follow this link over to GoFundMe to make an online contribution. Please share this drive with others you know to help make a child's holidays memorable.
You can also make a donation to Toys for Tots through donation boxes and jars at several locations in Susanville.
If you are unable to get to one of these locations you may also call our volunteers at 530-260-1222 to set up a safe drop off or pick up with us.
"We truly appreciate all the continued support from our community that makes our program possible in helping to make sure all our children in Lassen County are able to have a magical Christmas every year."
Donation boxes can be found at Merry Morsels, CCC, Johnstonville Store, Golden 1 Credit Union, Wal-Greens, Dollar General, Kopper Kettle, Alliance Gas, IGA Susanville Supermarket, Margie's Book Nook and Every Blooming Thing.
All donations stay local and the non-profit agency only shops in local businesses and stores to purchase items for the program.
You can mail contributions to:
Lassen County Toys for Tots
P.O. Box 171
Susanville, Ca. 96130
530-260-1222