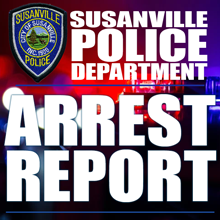 US Marshals staked out a downtown motel Tuesday, arresting a Pennsylvania man facing homicide charges in connection with a May 29th shooting that occurred near Pottstown, PA.
Marshals from the agency were set up near the Super 8 Motel, located at 2975 Johnstonville Road, and observed the suspect, identified as 21-year-old Tyshaun Harvey, walking into the Walgreens Parking lot across the intersection.
At around 4:00p.m., the Susanville Police Department was contacted by the Marshals' Fugitive Task Force, for assistance, as they prepared to take the suspect into custody.
"Agents converged on Mr. Harvey, he was taken into custody without incident," explains SPD Captain Michael Bengoa-Bollinger.
"Officers assisted Agents with contacting Mr. Harvey's acquaintances in the Hotel and seized a firearm located inside the hotel room."
"It was said, Mr. Harvey has been in the Susanville area for the past week staying with an unidentified female, who has been working locally as a contracted nurse."
Authorities from Pennsylvania say that on May 29th, police responded to a reported shooting in Pottstown, where investigators learned a Chrysler 300, owned and driven by Harvey, had been following a vehicle through the streets of Pottstown for 40 minutes before an exchange of gunfire began between the two cars, resulting in a death.
Harvey was taken to the Lassen County Jail where he was booked on his warrant and to begin extradition proceedings back to Pennsylvania.