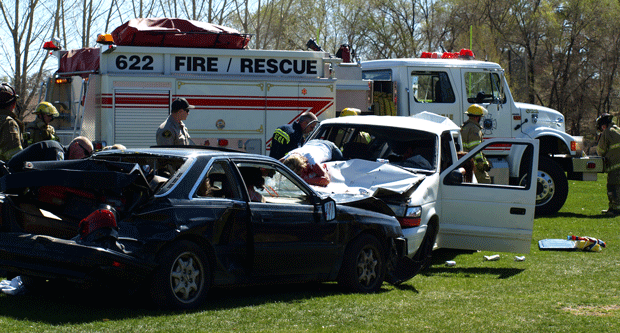 The "Every 15 Minutes" program came to Lassen High on Thursday; a CHP sponsored and directed enactment of a drunken driving accident on Arnold Field complete with host of personnel and equipment from local agencies that helped to give the grim scene a sense of reality.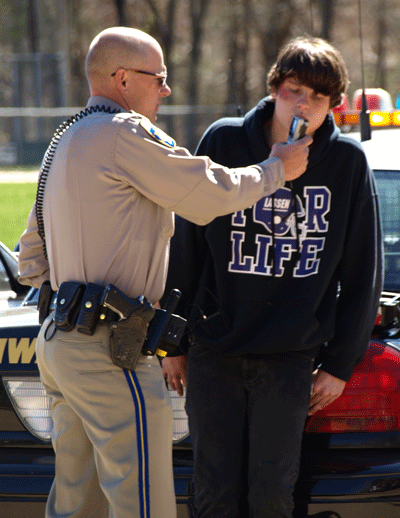 The program is intended to educate and discourage high school students from drinking, using drugs or driving while under the influence.
The aftermath of tragic collision played out before the students on the field and involved paramedics, the City Fire Department, the CHP and Careflight helicopters, Lassen County Sheriffs, City Police, Volunteer Firefighters, CalFire and others.
Students portrayed victims of the crash as the Grim Reaper walked among the smoky wrecks with emergency personnel separating the injured from the dead.
"The Every 15 Minutes Program," according to the CHP, "offers real-life experience without the real-life risks."
"This emotionally charged program is an event designed to dramatically instill teenagers with the potentially dangerous consequences of driving under the influence."
The program challenges students to think about drinking, personal safety, and the responsibility of making mature decisions when lives are involved. To find out more about the program click here.
Here are the talented students who helped work with CHP to put on the event.
Student Directors
Ivanna Rose, Courtney Williams, Emily Terwilliger
Crash Scene
Brian McDonald & Courtney Williams ~ died
Keith Rose, Madisyn Harlan, Emily Egan, Brendon Colbert, Lesandra Rodriquez ~ injured
Hunter McCallister ~ drunk driver
Living Dead
Kendra Bowles
Taylor Knecht
Colten Surian
Lindsay Northrop
David Vicondoa
Jaydi Miller
Dani Ratkey
Kevin Cooper
Jordan Atkinson
Gracie Radey
Dakoda Hahn
Alyssa McDaniel
Tatum Uruburu
Portia Martin
Rebecca Williams
Kenny Jones
Rachel Cornelison
Heather Fortin
Kinzey Winton
Tyler Winn
Michael Flower
Jessica Rorie
Devyn Anderson
Josh Schmidt
Be warned that at times the video presentation involving our high school kids acting out a grim scene can be a little disconcerting. -jc