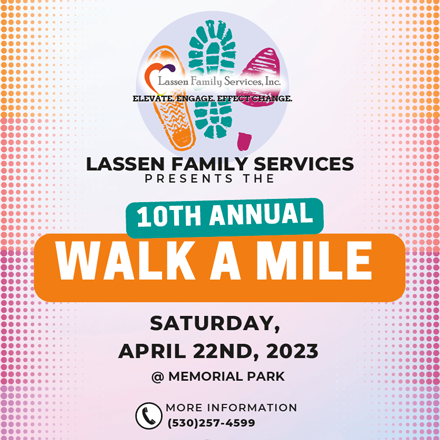 Lassen Family Service's 10th annual Walk-A-Mile event, a mile-long color walk through mid-town Susanville to support survivors of sexual assault and child abuse, will be held Saturday, April 22nd in Memorial Park and right now there are plenty of opportunities for your agency or organization to take part in the event.
This is a great way to share your resources with the community.
"This year, in addition to the resource fair and one-mile walk," says event organizer Kendra Zaengle, "we have added a 5K Fun Run fundraiser."
Money raised from the 5K will go to Lassen Resiliency for training Sexual Assault Nurse Examiners.
LFS hosts the walk annually at the end of National Crime Victims' Rights Week to raise awareness and to provide information on the support services offered in Lassen County.
Activities will be held in the park from 10:00a.m., and 2:00p.m.
If your agency or organization would like to have a booth at Walk-A-Mile, you can download a booth registration form by clicking here.
For more information, please call 1.530.257.5459 or email kendra.zaengle@lassenfamilyservices.org.