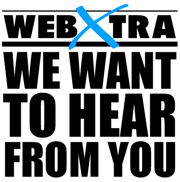 Around here we very much appreciate the power of personal stories. It's why we are always so excited to cover events from a personal level. A good example of which was coverage of the 'Race Across America' in June.
That already captivating story became more interesting to follow because of Jim Chapman's personal reporting along the way.
Real stories help our readers connect with the news and events we report on, and so we are inviting you writers out there to send us your stuff. We'll read it and let you know whether we can use it or not.
Remember that by submitting your story you are giving SusanvilleStuff permission to edit and publish it.
Send your story ideas or submission to submissions@susanvillestuff.com or use our handy form below. I can't wait to see what you have to say. Now start writing!
Jeremy
[contact-form-7 404 "Not Found"]