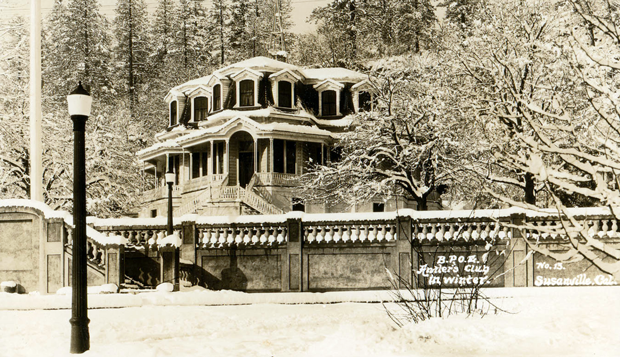 Susanville Chamber Holds March Meeting
March 4th, 1926
Eddie Boyden, San Francisco newspaper man, was the chief speaker at the chamber of commerce banquet held at the Elks club in Susanville this week. More than 120 persons attended the banquet.
Mr. Boyden gave a brief survey of the naming of Lassen county and many of the pioneers. In addition to Lassen county history Mr. Boyden took up several issues of the present day in the political world and gave a short discussion of each.
In addition to Mr. Boyden, 'Finn' Barry of Susanville, who is president of the fish and game league, gave a talk on fish and game conservation. Mr. Barry outlined the plan of enforcement of the law by moral persuasion rather than legal activities. An appeal was made for a large membership in the fish and game association.
C. J. Mittchell of Westwood gave a very interesting discussion of Lassen National park. The speaker advocates backing up the bill in congress for the purchase of the Drakesbad property and making this a memorial Raker. This plan apparently met with much favor among the audience.
Secretary O'Donnell gave a talk on the program of work for the chamber of commerce for 1926. Mr. O'Donnell stated a ten year program for the county was being worked out.
---
We are always looking for new pictures to preserve and share in our historical photo collection and we would love to see yours.Your picture will be added to our digital archive for future use and we will make sure you receive credit whenever possible. Email your contribution along with your name and a short description of what you've sent to webxtra@susanvillestuff.com. A digital copy of every submission will also be donated to the Lassen Historical Society for preservation in their files.