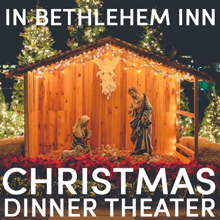 Tickets are now available for In Bethlehem Inn, a unique dinner theater event that brings you to the inn which had no room for Joseph and Mary.
Showtimes are this Friday, December 13th and Saturday, December 14th at 6:00p.m.
You won't want to miss out on this experience which will be held at the Susanville Church of the Nazarene, 1825 Spring Ridge Drive. Tickets are $10 for adults and $5 for children and space is limited.
You can buy tickets at Supreme Graphics, 2100 Main Street, Suite A or Cross Freedom at 650 Ash Street. You can also contact Pastor Barb at pastorbarb@suznaz.org for tickets and more information.
Would you like to win tickets? We have a pair to give away to a lucky SusanvilleStuff reader!
You can enter once per day between now and midnight on December 12 to win a pair of tickets to Saturday's In Bethlehem Inn. We will announce the name of our ticket winners right here Friday morning, December 13th.
No purchase necessary to enter and win. Contest ends at 11:59 p.m. (PST) December 12th, 2019. All entries must be received before 11:59 p.m. (PST) December 12th, 2019 to be valid. To enter to win our SusanvilleStuff giveaway, please fill in the required information in the form above. Incomplete entries are considered void.
This contest is open to all legal residents of the United States, 18 years and older. Those who enter this contest acknowledge the official rules, requirements and eligibility.
The winners will be chosen at random at the end of the contest. Your chances of winning are determined by the amount of eligible entries received. The more times you enter, the greater your odds of winning! Good Luck!