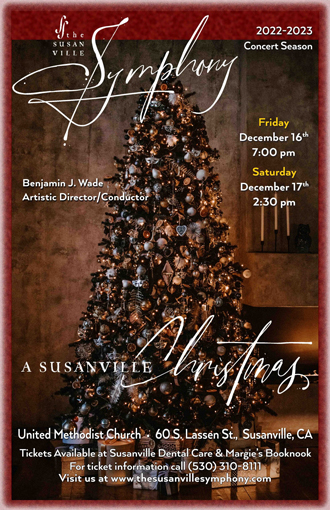 The Susanville Symphony returns home to the Methodist Church next week for this year's Christmas performances and tickets are already going fast for what has become one of the highlights of Lassen County's holiday season.
Christmas Concert performances are slated for Friday and Saturday, December 16th and 17th. The Friday night performance is at 7:00 and Saturday's is at 2:30.
Artistic Director and Symphony Conductor Ben Wade says that this is his favorite concert of the year, in great part because of all of the families, home for the holidays, who come see the concerts together.
"It's always great to see former youth musicians who played for the Academy of Music and the Symphony," Wade adds.
This is the 19th annual performance of what has become a Susanville holiday tradition, featuring some of our hometown's best musicians playing your seasonal favorites – Sleigh Ride, movements of the Nutcracker, White Christmas – enough musical cheer to warm the grinchiest of hearts.
Conductor and Artistic Director Ben Wade encourages families to attend the festive concert, promising a performance filled with a little something for people of all ages.
"You might know some of the music we play at our other concerts, but you will know, and hum, or sing along, to all of the holiday favorites."
"Who doesn't wait for the horse whinny at the end of Sleigh Ride? Who doesn't want to sing shoulder to shoulder with your friends or family at the end of the concert carol sing-a -long."
Performances will be held at the Susanville Methodist Church on South Lassen Street and tickets are $30 each. You can buy them at Margie's Book Nook or Axia Home Loans. For more information call the Symphony Hotline at 530.310.8111.
Wade says, "Don't be a scrooge, splurge on yourself and your loved ones this holiday season!"
Would you like to win a pair of tickets? Of course you would!
You can enter once per day, per email address, from now until midnight December 15th, to win a pair of tickets to the performance. We will announce the name of our ticket winners on December 16th. We have three pair of tickets to give away to this weekend's shows.
The more entries the better your odds of winning. Good Luck!
---
No purchase is necessary to enter and win. Contest ends at 11:59 p.m. (PST) December 15th, 2022.  All entries must be received before 11:59 p.m. (PST) December 15th, 2022, to be valid. To enter to win our SusanvilleStuff giveaway, please fill in the required information in the form above. Incomplete entries are considered void.
This contest is open to all legal residents of the United States. Those who enter this contest acknowledge the official rules, requirements and eligibility.
The winners will be chosen at random at the end of the contest. Your chances of winning are determined by the number of eligible entries received. The more times you enter, the greater your odds of winning! Good Luck!