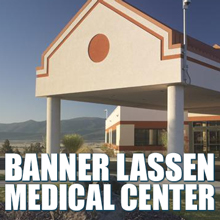 In an ongoing effort to ensure patient safety and to minimize the spread of COVID-19 the California Department of Public Health has issued an order on visitor limitations at Acute Care Hospitals. Banner Lassen Medical Center has announced that they will be requiring all visitors in their inpatient setting to provide proof of COVID vaccination, or a negative SARS-Co-V-2 test.
"Our goal is to keep our patients and team members safe and still allow visitors to spend time with our patients when it can be done safely and help to contribute to a patient's healing and wellbeing," hospital administration explained in a brief announcement.
Please see below for acceptable options on providing proof of your vaccination and or negative test:
Covid-19 Vaccination Record Card which includes name, type of vaccine and dates of last dose administered. This can be provided by a photo of your vaccination record, a photo of your record stored on your phone or electronic device, documentation of your vaccination from your healthcare provider. If you are eligible to receive your booster shot after your initial vaccination that must be included on your card.
Unvaccinated, incompletely vaccinated or booster eligible visitors who have not received their booster will need to show documentation of a negative SARS-CoV-2 test that was completed within 72 hours before each visit if using a PCR test or 1 day if using antigen testing before each visit.
Unvaccinated or incompletely vaccinated visitors with a history of COVID-19 within the prior 90 days may provide documentation of recovery from COVID-19 and release from isolation in lieu of testing.
Please contact Banner Lassen at 1.530.252.2200 with any questions or concerns.