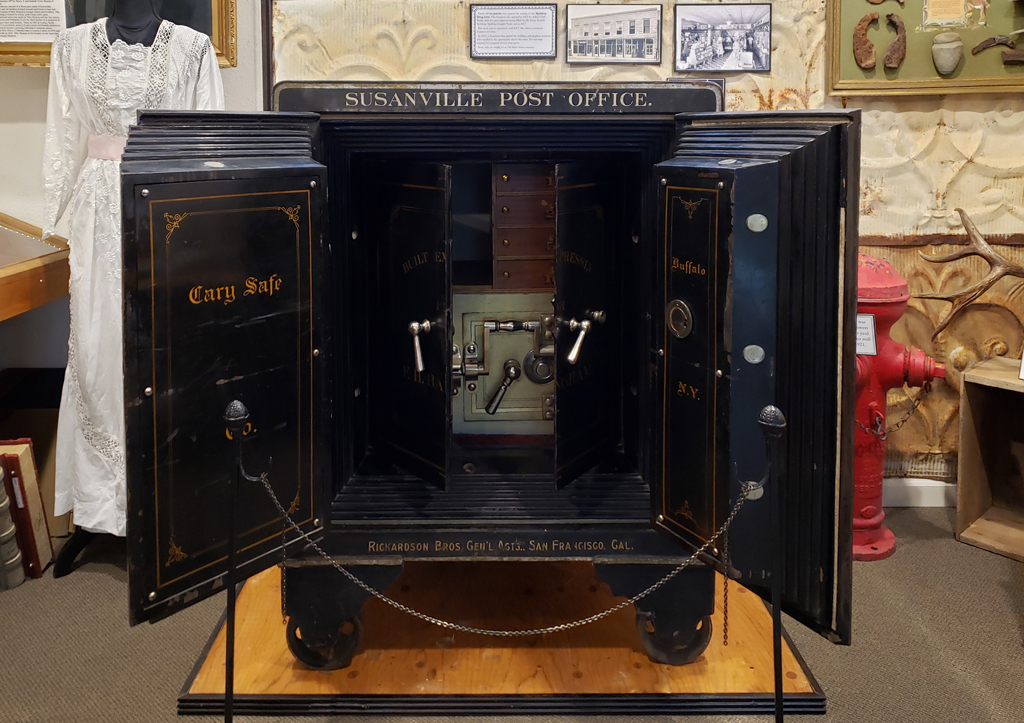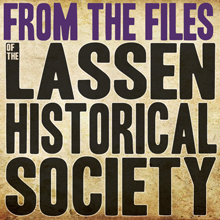 by Susan Couso
The Lassen County Historical Society is always thrilled to have a piece of our history returned to its 'roots'. This safe was manufactured around 1909 and was customized for Postmaster Frank Henry Bangham. Bangham was Susanville's Postmaster from 1901 until 1913.
In 1901, the post office was located in the Spalding Drug Company building at 706 Main Street. In December 1915, the Post Office was moved across the corner to the Knoch Building.
According to the lease, the new facilities included equipment, heat, light, water, furniture, and a safe. It is unclear if Bangham's safe was moved to the new location, if he retained ownership as he left his postmaster position, or if it was sold into private ownership at this time.
In September, 1937, work began on a new post office on Lassen Street. On April 8, 1938, the new post office was open. It contained a huge vault for post office securities. Perhaps this is when the old safe was sold.
The new site brought some confusion to those local citizens who relied on a daily routine. In 1938, the Nevada State Journal reported that, "Although the Susanville post office has been moved for several days, force of habit is so strong that many people are still going to the old building, sometimes two or three times a day."
The old Susanville Post Office safe is now home, after traveling a bit. It ended up in a north Lake Tahoe residence, after being purchased from an antique safe dealer. There it sat for many years before being moved to Carson City, where is sat in an automotive shop for many more years. After the owner's death, the family held an estate sale, and the safe emerged from the dust.
Contacted by the estate sale business, the Lassen County Historical Society was excited to have a chance to welcome it back to Lassen County. The safe owners, the estate sale company, and many others worked to bring it to the museum, and today, it sits in a place of honor.
The Lassen County Historical Society would like to thank everyone who helped to 'bring it home': Thomas Burch, who engineered the deal, the Smolley family, who cared for the safe for many years, Chris Gorby, from Carson City Estate Sales, Josh McKernan from Morning Glory Dairy, who donated his huge truck and warehouse, Justin Simon, who drove the truck to Carson City and back, and even paid for the fuel, and the Susanville Public Works crew, Billy Hoffman and his guys, James, Tanner, and Pat.
You can come see our new acquisition and enjoy Lassen County's history by visiting the museum at 115 North Weatherlow Street. We're open Tuesday, Thursday, and Friday from 10:00 a.m. – 2:00 p.m. and Wednesday and Saturday from 10:00 a.m. – 12:00 p.m.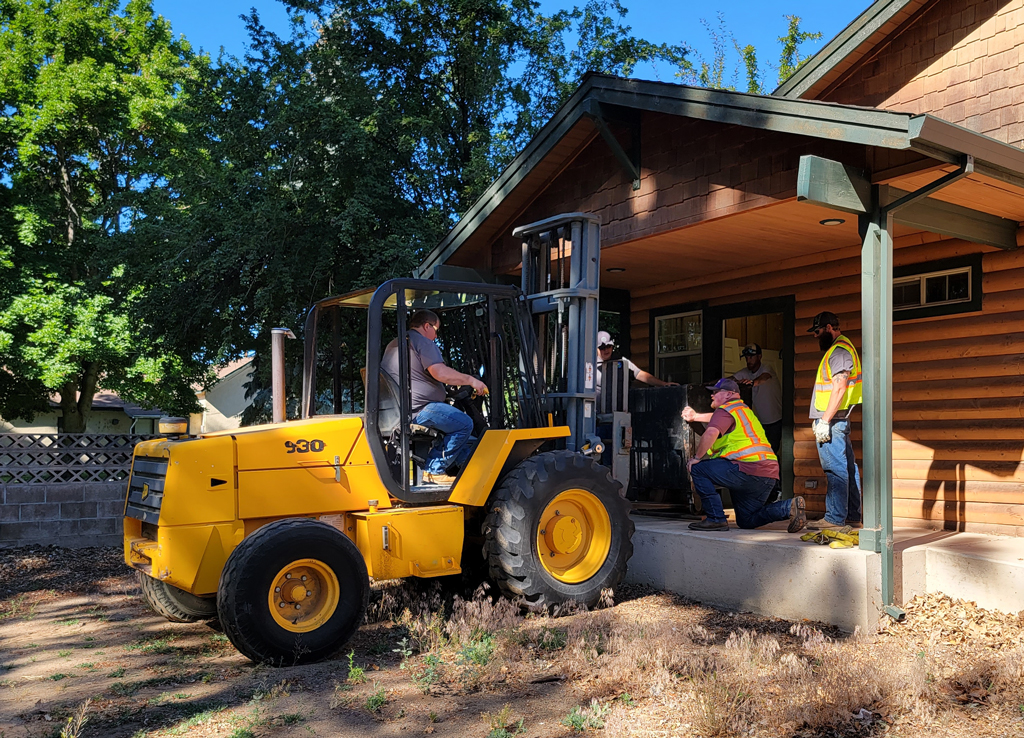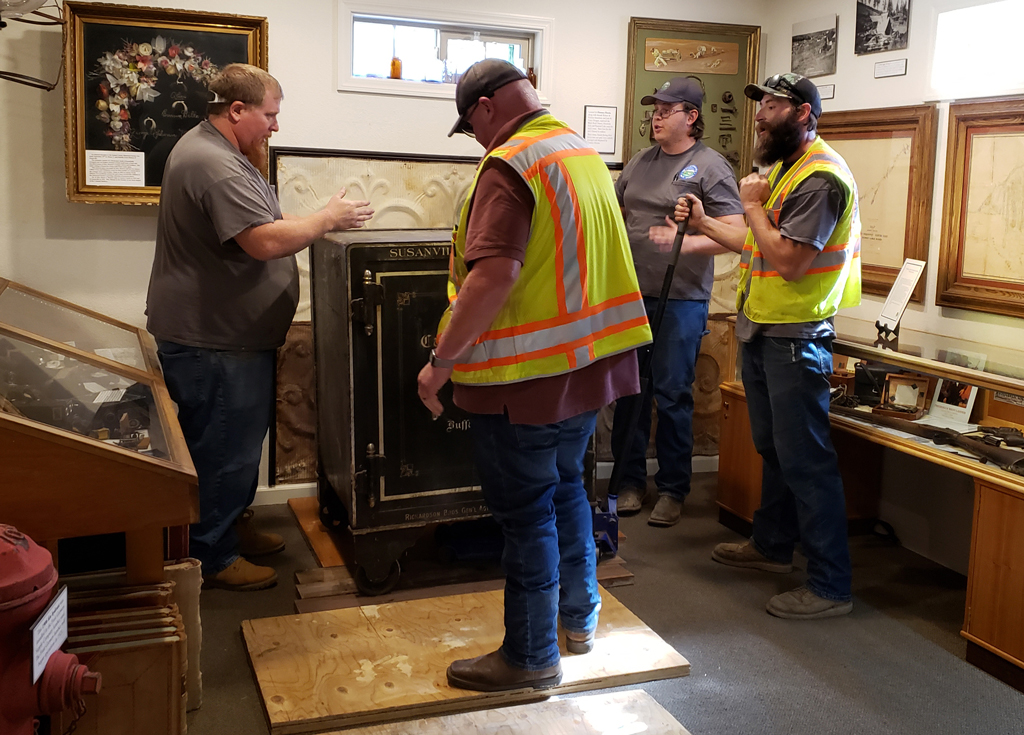 ---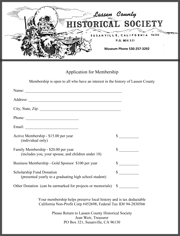 If you are a fan of our weekly history stories you should join the Lassen County Historical Society! It's a fun way to be a part of our county's rich history. When you sign up, you'll receive regular Historical Society newsletters with interesting stories and information. Membership is open to anyone with an interest in area history.
Through your membership you help preserve local history. You can download a membership application by clicking here.