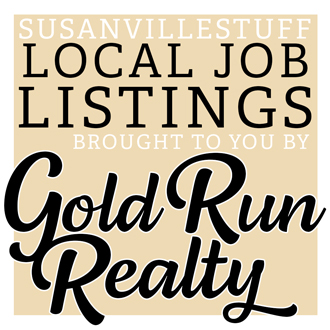 Lassen Union High School District – Custodian/Night
The Lassen Union High School District is accepting applications for the following classified position:
Position:
Custodian – Night
Salary:
Range 3, Starting at $16.35-$23.00 per hour (DOE). Medical, dental, vision, and life insurance (cap in place) plus enrollment in the CalPERS retirement program, Vacation, Sick, and paid Holidays.
Assignment:
Eight (8) hours per day, five days per week
12 Month Employee
Location:
Lassen High School
Job Summary:
Under supervision of the Maintenance and Operations Supervisor, performs a variety of general cleaning and general housekeeping work in an assigned school; performs specific tasks including heavy cleaning such as stripping, waxing and polishing floors; provides assistance in various repairs; assists in relocating classroom/office furniture. (Full Job Description available online through link below)
Qualifications:
Completion of formal or informal education sufficient to assure the ability to read and write at the level required for successful job performance. Valid California Driver's License. CPR Certification.   
Application Procedure:
Please apply online at:
https://www.edjoin.org/Home/DistrictJobPosting/1687573
Contact Information:
Nicole Vinson, Human Resources Manager
1000 Main Street
Susanville, CA 96130
(530) 251-1197
Nicole.Vinson@lassenhigh.org
Application Deadline:
Until Filled
***BACKGROUND INVESTIGATIONS WILL BE CONDUCTED***
EQUAL EMPLOYMENT OPPORTUNITY EMPLOYER