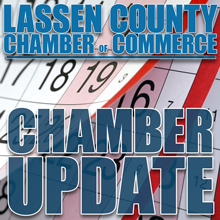 Kelly Ackley, Executive Director
A big thank you to Lassen Community College Baseball for helping put up the community Christmas Tree, what a way to bring in the holiday spirit!
Mark your calendar as Plumas Bank hosts the December Chamber Mixer on Thursday, December 2nd. The mixer will be held from 5:30 to 7:30p.m., at Plumas Bank, located at 3000 Riverside Drive. Stop by to enjoy a no-host bar featuring a specialty cocktail. Everyone is welcomed; you do not need to be a chamber member to attend, and we encourage you to bring a friend!
Susanville Auto Center presents Santa's Village. Friday, December 17th, from 3:00 – 6:00p.m., located at Susanville Auto Center, 704-485 Richmond Rd E. This event includes a visit with Santa, free 4X6 photos, letters to Santa and lots of sweet treats!
Blue Star Mom's will be holding their Boots Fundraiser alongside Susanville Fire Department to be held at Susanville Supermarket IGA Saturday, December 4th from 10:00 – 1:00p.m., featuring Rod Chambers and Lia Knight.
Lassen High ASB will be putting on a Winter Carnival, Friday, December 10th at 4:00p.m., in the Student Center and Big Gym. There will be food, activities, vendor booths, and a special performance! Contact Rachel Stewart at (530) 257-2141 with any questions or to be a vendor.
Soroptimist International of Susanville is holding their 2021 See's Candy Fundraiser, available at Margie's Book Nook, Susanville Supermarket IGA, Giovanna's, Beauty Addiction and Plumas Bank. For more information, contact Theresa at (530) 257-4029 or (530) 310-1616.
Is your business a Chamber Member? Then the Lassen County Chamber of Commerce invites you to 'Put the Magic in the Holidays' and participate in our 'Magic Made Local' campaign! There is no charge to participate, just let us know that you'd like to be on the exclusive list of Chamber Businesses, and we'll do the rest. Call our office at (530) 257-4323 for complete details.
Susanville Best of Broadway and Lassen County Arts Council Present The Reno Dance Company in The Nutcracker at the Veterans Memorial Hall December 2nd-4th. Tickets are $15 and are available at the Lassen County Chamber, Margie's Book Nook and Zeangle's Furniture, sponsored by Joan's Studio of Dance and Diamond Mountain Casino & Hotel.
Lassen Family Services would like to invite you to attend two fun-filled nights of fabulous music with tribute band Desperado. They will be performing the music of the Eagles on Friday, December 3rd and the Beach Boys on Saturday, December 4th at Lassen County Fairgrounds in the Industrial Building. Concert ticket prices are $25 and are available for purchase at Lassen Family Services, Margie's Book Nook and at the door of the event. For more information call (530) 257-5459.
Lassen National Forest has launched their Christmas Tree Program. Christmas Tree Tags are $10 each and are available for purchase at Susanville Supermarket IGA, Eagle Lake Ranger Station for the following Fridays, December 3rd and 10th or online at http://fs.usda.gov/detail/lassen/passes-permits/forestproducts
Mark your calendar to attend this year's Magical Country Christmas Celebration that will be held on Saturday, December 4th, 5:00 to 7:00p.m., in Historic Uptown Susanville, sponsored by Historic Uptown Susanville Association, City of Susanville, and Les Schwab Tires. The celebration includes musical entertainment, Christmas Parade, Toys for Tots drive, adult Hot Toddy walk and fireworks to ring in the Christmas Season. Uptown Main Street will be closed to thru traffic during the celebration. This is a fun filled event for the whole family. Christmas Parade and vendor entry forms are available at the Chamber office or by logging on to www.lassencountychamber.org