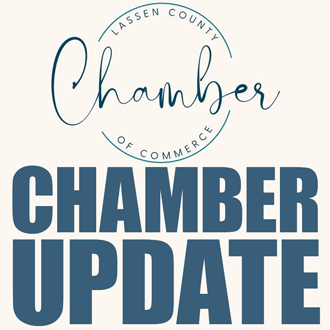 Kelly Ackley, Chamber Executive Director
Lassen County Chamber of Commerce has recently updated its website, conveniently giving members their own member portal to make payments, upload events to the community calendar or simply chat with us. A "Members Only" email was sent out; if you did not receive one or need assistance, please get in touch with the Chamber office. Visit www.lassencountychamber.org to view the new look.
2023 Labor Law Posters have been ordered and are expected by the end of the month; the Chamber office will be in contact when they arrive. If your business would like to place an order, please call the office at, 530.257.4323.
Yee-Haw. Join the Lassen County Fairgrounds for their 2nd Annual Cowboy Festival. This event is held Friday, February 3rd, and Saturday, February 4th. This event will be full of western vendors, a chili cookoff, and top-notch entertainment. The concert doors will open at 6:00p.m. each night and the tickets will be $26 each for the concert. For more information contact the fair office or visit lassencountyfair.org
Mark your calendar as Northern California Cancer Advocates host their annual Crab Feed at the Diamond Mountain Casino Willow Room, Saturday, February 4th at 5:30p.m. Tickets are $60 and can be found at the Diamond Mountain Casino, Lassen County Federal Credit Union, or any NCCA member.
Lassen County 4-H Ambassador Team presents Family Fun Night Sweetheart Bingo, Tuesday, February 7th at 6:00p.m., located at Jensen Hall, Lassen County Fairgrounds. If you are a bingo lover, this night is for you. Come win some awesome prizes. All proceeds from this event will be donated to the Susanville Blue Star Moms for care packages for our active-duty service men and women. The cost per bingo bundle is $5.00, each bundle includes five game cards: limit 4 per player. For more information, please contact 530.310.6882.
Sierra Theatre will be hosting a live event, Friday, February 10th at 7:00p.m. A tribute to Johnny Cash and June Carter, 'The Greatest Love Story Ever Sung' Live in Concert. Tickets are available at Sierra Theatre, Uptown Cinemas, and Margie's Book Nook. $25 cash only. Support for this event encourages more in the future.
Sierra Nevada Dog Drivers presents Chester Winterfest Dog Sled Race. This event will be held, Saturday, February 11th and Saturday, February 12th from 8:00 to 3:00p.m. There will be a Meet and Greet the Mushers and Dogs, Friday, February 10th from 7:00 to 8:00p.m., in the Holiday Parking Lot in Chester. The Race will be held Saturday and Sunday at County Road 324 (where Cedar Lodge is in Chester) follow the signs.
Susanville Elks Lodge brings to you 'Someone Special Valentine's Day Dance.' Saturday, February 11 from 6:00 to 9:00p.m. Live entertainment by DJ Cain, photo booth and cake. Dads bring your daughters, moms bring your sons, bring someone special to the dance and have some fun. Tickets are $20 per family and can be purchased at Margie's Book Nook or the Lassen County Chamber of Commerce.
Cattlemen and Cattlewomen present A Taste of Beef Sip of Wine on Saturday, February 11th at the Lassen County Fairgrounds, Jensen Hall. Live entertainment featuring the Rickety Bridge Band, silent auction, and raffle items. All the fun starts at 5:30p.m. Music and full bar start at 8:00p.m. Tickets can be purchased for $35 at Margie's, Book Nook, Zaengle's, and Lassen County Fair Office; or purchased the day of the event for $40 at the door.
Join Susanville Rotary for its first annual cornhole tournament! Beers & Bags Cornhole Tournament will be Saturday, February 18th from 10:00 to 6:00p.m. Compete for cash prizes while enjoying food and beverages. Proceeds for this fundraiser stay local to support community youth and service projects. Preregister through Venmo at SUSANVILLE-ROTARY: $60 per team or registration at the door opens at 9:00a.m., for $70 per team.
The rumors are true Lake Almanor Area Chamber has brought an Ice-Skating Rink to Chester this winter. They are hoping this will bring joy and fun activities for the youth and families of this area. The ice-skating rink is available on weekends and runs until March 26, 2023. Guests can skate in 45-minute sessions for $5 per person, and that includes skate rentals. Hours of Operation: Fridays 4:00-8:00p.m., Saturdays 12:00-4:00p.m., and Sundays 12:00-4:00p.m. These times are subject to change. For more information, contact the Lake Almanor Area Chamber of Commerce at 530.258.2426.
Lassen Library has a list of upcoming events. Saturday, February 4th at 10:00a.m., is Family Literacy Day, geared towards families with children 0-5 years old. They will be discussing kindness through stories, songs, and crafts. Wednesday, February 8th at 9:30a.m., is Adult Book Club. Join in for their monthly book club. They will be discussing last month's book selection and passing out the new book for February. Saturday, February 18th from 11:00 to 12:30p.m., is Kids Craft Day, geared towards elementary aged children. Join in for a fun craft about wolves. Every Tuesday and Wednesday at 11:00a.m., is Storytime, geared towards children ages 0-5, including songs, stories, and crafts. For more information, contact the Lassen Library at 530.251.8127.
Applications for Lassen County Farm Bureau scholarships are now available.  These scholarships will be awarded to deserving high school or college students who are pursuing a career in agriculture or agri-business. For more information call the Lassen County Farm Bureau office at 530.257.7242. The application deadline is March 24, 2023.
Don't forget to email the Chamber with any upcoming event or swing by the Chamber Office at 1516 Main Street with event posters.