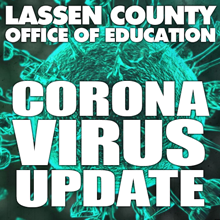 As children return to the classroom for the 2021 spring semester Lassen County Superintendent of Schools Patricia Gunderson is clarifying rules regarding COVID-19 precautions and mask-wearing for transitional-kindergarten through 2nd grade students.
"In my December 16th, 2020, press release, I indicated that new guidance required students in grades TK – 2 to wear facial coverings while in the classroom," explains Gunderson.
"After several questions from the community, I was able to clarify with the California Department of Public Health that the August 3rd, 2020, guidance for schools is still in effect."
The August guidance, according to Gunderson, states that facial coverings for grades TK – 2 are strongly encouraged but not mandatory.
"However," cautions Gunderson, "the CDPH is currently working on a consolidation and revision of guidance for schools."