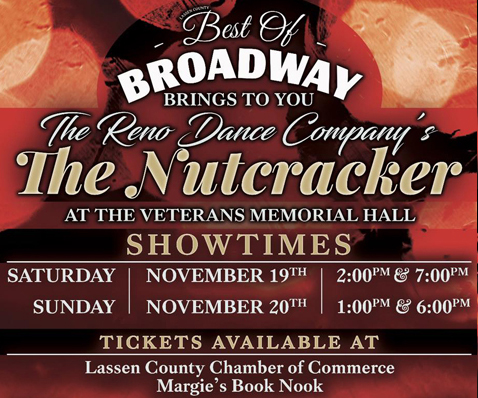 The Reno Dance Company will be bringing their professional production of the traditional holiday ballet 'The Nutcracker' to Susanville this weekend, November 19th and 20th, and you can win a pair of tickets to go see the Sunday matinee!
Susanville's Best of Broadway organization has arranged for four shows over the weekend – at 2:00 and 7:00p.m. on Saturday and 1:00 and 6:00p.m. on Sunday.
You can purchase tickets at Margie's Book Nook or the Lassen County Chamber of Commerce. Tickets are $20 and will be limited so it's best to get them early, especially for the Saturday evening performance.
This year's performance will feature local dancers Joelle Giddings and Hannah Martin as Clara.
Hundreds of local residents travel to Reno each December to see The Reno Dance Company perform this spectacular ballet at the Nugget, so it is pretty neat that we can see it right here at the Veterans Memorial Hall.
Want to Win Tickets? Of Course You Do!
You can enter once per day, per email address, from now until midnight tonight, November 17th, to win a pair of tickets to Sunday's 1:00p.m. matinee performance. We will announce the name of our ticket winner right here tomorrow morning, November 18th.
The more entries the better your odds of winning. Good Luck!
No purchase necessary to enter and win. Contest ends at 11:59 p.m. (PST) November 17th, 2022. All entries must be received before 11:59 p.m. (PST) November 17th, 2022 to be valid. To enter to win our SusanvilleStuff giveaway, please fill in the required information in the form above. Incomplete entries are considered void.
This contest is open to all legal residents of the United States, 21 years and older. Those who enter this contest acknowledge the official rules, requirements and eligibility.
The winners will be chosen at random at the end of the contest. Your chances of winning are determined by the amount of eligible entries received. The more times you enter, the greater your odds of winning! Good Luck!