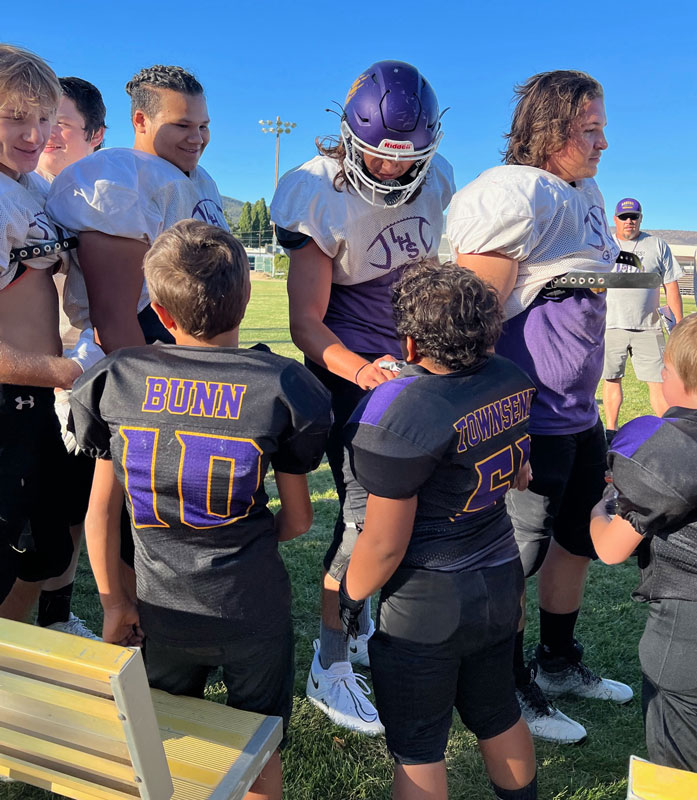 Photos by Lester Ruda and Anna Townsend

In an effort to unify football programs happening simultaneously within the community, Lassen Youth Football League's 5 to 7 year-old players, under Head Coach Justin Weekley, were welcomed onto Arnold Field for Lassen High's Varsity practice on September 13th.
Our community's oldest Grizzlies are the fourteen seniors playing for Coach McCloskey on LHS varsity, while the thirteen youngest Grizzlies play in the LYFL Bandit division.
Seniors Ben Wheeler and Conner Avila also have brothers Jeremiah Townsend and Austin Avila that play at the Bandit level.
During practice, Varsity players buddied up with a young player to get to know them a bit better and to share some advice about how to be a good teammate.
LHS Coach McCloskey offered the young Grizzlies an exciting pep talk, shouting out calls and getting team responses from both groups.
He engaged both teams by asking how many of his players started out just like these little guys, in youth football. All around there was encouragement for players to keep their love of the game strong and one day they will be big strong Grizzlies just like his Varsity players.