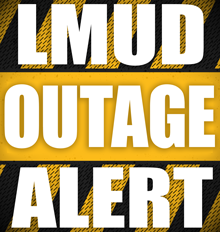 Updated July 21st, 8:34a.m.
As of this morning, the situation remains the same. Barring any catastrophic event, LMUD will continue to receive emergency power from PG&E.
Customers can expect intermittent power as long as LMUD is receiving the emergency power. There is still no estimated time of full restoration.
---
Updated 8:44p.m.
"PG&E has been working with LMUD's operations department regarding our current power situation. In a collaborative effort, PG&E has re-evaluated their power supply, and has determined that LMUD will remain on emergency power throughout tonight. Our operations department will continue to rotate power throughout our system. Barring any catastrophic event, customers can expect intermittent power as supply and load allows. Again, we thank you for your patience and understanding in this difficult situation. We also thank PG&E for their support and willingness to work with us so that we may provide power to our community."
---
Updated July 20th, 4:54p.m. LMUD Says Prepare for Several More Days Without Electricity
From Lassen Municipal Utility District – "PG&E has informed our operations center that due to the Dixie Fire; their infrastructure is facing imminent failure by 7:00pm tonight. This means that LMUD will lose our emergency power, leaving the entire system dark. There is no estimate for how long this situation will last, or when power will be restored to our system. Honey Lake Power continues to work on repairing their plant. There is no estimate on when, or if repairs can be made. At this time, we are advising customers to prepare to be without power for several days if not longer."
---
Updated 5:10p.m. LMUD Energizing Portions of System for Short Periods of Time
According to utility spokesperson Theresa Philips, LMUD will be energizing portions of their system for short periods of time.
"Due to the limited amount of power available, power will be on intermittently throughout today and into tonight," says Philips.
"HLP is still working on testing equipment and starting the power plant. If they are able to stabilize their plant, we may be able to re-energize our system. However, if they are not able to fully restore operations we will experience rolling blackouts."
PG&E has advised LMUD that the emergency power that they are currently supplying the system is very limited and may become unavailable without notice.
"If you have power, please use it wisely. Do not use major appliances such as clothes washers and dishwashers. If you are on a well, fill bathtubs and other containers with fresh water. Keep your refrigerator and freezer closed. Again, we thank you for your patience during this difficult time."
---
Updated 2:25p.m.
LMUD has begun the process of restoring limited power to their system.
PG&E was able to provide a small amount of emergency power, allowing LMUD to energize crucial infrastructure, including the hospital, 911 call center, Lassen Community College (designated cooling and evacuation center), Lassen Nursing and Rehabilitation, and the Antelope Mountain communications center.
HLP is in the process of testing equipment and preparing to restart.
Please be aware that, because of their proximity to essential services, some businesses and residences are now receiving power. Due to the limited capacity of the emergency power allotment, LMUD is not able to energize their entire system.
As soon as they know the status of HLP, LMUD will assess the situation and hopefully begin the process of re-energization.
---
Updated 12:15p.m.
PG&E has informed LMUD that they will be able to provide emergency power to the LMUD system in order for HLP to test repaired equipment. This process could take several hours. If equipment holds, LMUD expects power to be restored by 8 or 9pm tonight.
---
Updated 6:45a.m.
According to LMUD, Honey Lake Power has made repairs to their equipment. However, they are not able to start the plant without power from PG&E.
"LMUD's operations center is working with PG&E and HLP to coordinate efforts to provide HLP with enough power to test the repaired equipment and hopefully restart the plant," explains LMUD Public Relations Manager Theresa Philips.
"The estimated time of restoration to the LMUD system remains the same. We are still advising customers to expect power to be out for the remainder of today and possibly into this evening. This may change and we will keep you updated as information becomes available. Thank you for your patience and understanding."
---
Customers of Lassen Municipal Utility District are being advised to prepare for a power outage that may last as long as 24-hours or more.
"At approximately 7:00p.m Honey Lake Power experienced an equipment failure causing a system-wide outage for Lassen Municipal Utility District," explains LMUD Public Relations Manager Theresa Philips.
"Due to wildfires, LMUD has been recieving power from HLP since July 13th. We are unable to reconnect to the PG&E Caribou transmission line, leaving out system without a viable power source."
"We are working with HLP and PG&E to assess the situation however we are advising all customers that at this time to prepare for an extended outage lasting at least 24 hours and possibly longer."