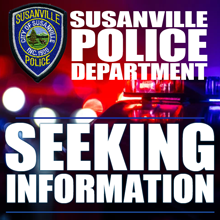 Investigators from the Susanville Police Department are seeking an unknown assailant and the details surrounding an early morning shooting on Pardee Street that sent one man to the hospital for treatment of a gunshot wound.
Shortly after midnight on Wednesday, officers were dispatched to the area of Pardee Avenue and Hood Street for a single report of multiple gunshots heard.
"Officers arrived in the area within minutes and began canvassing the area," explains Susanville Chief of Police Ryan Cochran.
"While checking the area, Banner Lassen Medical Center contacted the dispatch center, reporting that a male had come into the Emergency Room with a possible gunshot wound."
An officer responded to the ER, where he contacted the 36-year-old victim and a possible witness. The victim was subsequently transported to an out-of-area hospital for emergency treatment.
"The witness reported that they did not observe the shooting and provided limited information."
According to Cochran no suspect description or other evidentiary information has been provided for the investigation at this time.
If anyone has information about the incident, please contact the Susanville Police Department, Detective Richard Warner at 1.530.257.5603.