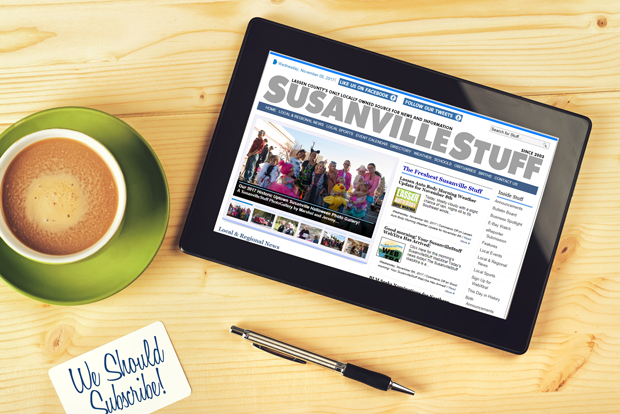 You don't have to contribute to SusanvilleStuff… but we will be incredibly thankful if you do!
SusanvilleStuff is our area's only locally owned news and information source and our commitment is to our friends and neighbors, with the goal of creating the best, all-around, most reliable content, while at the same time highlighting what makes Susanville and Lassen County so incredibly unique.
365 days a year we act as eyes and ears for our neighbors, and the lens that nearly 20,000 people each month see Susanville through. Think of that – when people on the internet around the world see Susanville, they see us on SusanvilleStuff.com.
Someone relocating and looking for a house to buy, a place to work, a retail location for their business, or a place to move their family will type Susanville into a search engine and find SusanvilleStuff at the top of the list. We try and show them the very best Susanville we can.
10,900 people follow us on Facebook. That means each time we post a story 10,900 of you know it instantly. Susanvillestuff.com averages more than 600,000 page views each month. We are Susanville's largest influencer across a variety of social media platforms.
Everybody knows about SusanvilleStuff and that is awesome!
Why We Need Reader Support
Our independent, local coverage takes a lot of time, money and hard work to produce. It is also not particularly lucrative. Our primary revenue source, banner advertising on SusanvilleStuff, is simply not enough by itself, and we increasingly need to rely on reader support to pay the bills.
Every dollar our readers contribute goes towards making SusanvilleStuff a stronger voice in the community with better, more comprehensive content.
We are committed to never putting up a paywall for our readers, and content on SusanvilleStuff will always be free. These contributions are completely voluntary, and very appreciated.
Click here to visit our subscription page and make an online contribution.
Thank You!

Jeremy and Marshel Couso,
Publishers, SusanvilleStuff